These Men Tried on 'Sexy' Women's Halloween Costumes — And Learned an Important Lesson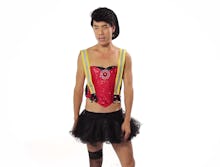 BuzzFeed Video via YouTube
If you've ever shopped for a Halloween costume, you've probably noticed a stark double standard in what's being sold. Most of the women's costumes are "sexy" things. As for men? Not so much.
For the most part, men can count on rarely encountering any racy male-targeted alternatives sold in costume shops. And while everyone has the right to choose exactly how revealing they dress on Oct. 31, the limited options available for women ultimately helps reinforce sexist stereotypes while prioritizing the male gaze — reducing women to the sum of their body parts for the pleasure of men. 
It's an issue tackled with hilarious albeit important consequences in a new BuzzFeed video, which turns the tables on these "sexy" outfits by having men wear them. After literally putting themselves in a woman's shoes — or rather, slinky fireman's outfit — they realized just how silly these costumes can be. 
"I like looking at them on women, but I don't want to see that on myself," one of the men featured in the video said before the gents geared up to become firehouse hotties, sexy scouts, sinful sisters and even ladybugs.
The experience was clearly an enlightening one for many of the participants. 
Whereas a firefighter, a pirate or a cop costume is sold and packaged to men for a more authentic yet fun representation of men in society, women's costumes are hypersexualized to the point of absurdity — not to mention impracticality. 
"No fireman in the fucking world looks like this," one of the participants noted. "This might be the dumbest costume I've ever seen." 
In one particularly jarring example, the "sexy scout" costume left some of the guys feeling a bit disgusted with the logic behind it.
"This is taking a depiction of a 7-year-old girl and turning it sexy," said one of the men, who questioned why an image synonymous with childhood, innocence and maturation had been transformed into something risqué. "Who's designing these clothes? Girl Scouts shouldn't be selling those kind of cookies."
The reactions from the men are funny, but they also demonstrate a paradox: They like looking at women in sexy outfits, but they're no longer sure if that's a good thing. 
"The most upsetting thing to me, though, is that I know if I saw someone wearing this properly, I'd be like 'Yeah, she looks pretty good,'" one of the male participants said. "I came in here today pretty pro-sexy costumes. I'm a little more torn now."
Another added, "There's a lot more sexiness when it looks like people put more thought into an outfit." 
Perhaps these gentlemen would prefer one of the appealing DIY options recently profiled by Mic:
Ultimately, this is not a question of whether a woman should ever wear a sexy costume. At the end of the day, the costume conversation is about ensuring there's a wider spectrum of options where women can celebrate their careers, honor their ancestors or even flaunt their bodies, if they so choose. 
And they can do it on their own terms, without being confined to what the mainstream considers sexy.