Three Videos That Show Why You Should Be Excited for 'SNL' This Weekend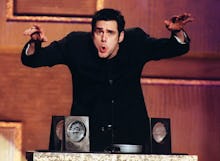 Saturday Night Live lovers, get ready for a blast from the past. Slapstick superstar Jim Carrey is coming to 30 Rockefeller Plaza, with musical guest Iggy Azalea.
Carrey is no stranger to the iconic variety show. He hosted SNL for the first time in 1996 and returned to the stage in 2011. And every time, the comedian brought his own blast of energy to the gig. From impersonating famous actor James Stewart to spoofing Keira Knightley's Black Swan, Carrey has always been on top of his funny game. But one sketch is so memorable, so hilarious that it shows why fans should be ecstatic for the man's return. 
Everything from the Roxbury Guys' "What Is Love" rendition is perfect, all the way down to each goofy head bob. The '96 skit with Carrey is what helped the Roxbury Guys lay a mark on SNL history. Later attempts were made but only pale in comparison with the one featuring the Dumb and Dumber actor.
Carrey's big break was the sketch comedy show In Living Color in the early '90s. He soon found himself in Ace Ventura: Pet Detective and The Mask, movies that fully showcased just how goofy he could be. The first time Carrey hosted SNL, his heyday had just started, and the Roxbury Guys sketch only added to the fire that was Carrey becoming a comedy star.
Soon came a slew of other knee-slappers. Audiences loved Carrey as a father forced to tell the truth for a whole day after his son's birthday wish of honesty game true in Liar, Liar, a role that earned him a Golden Globe nomination. And who could forget Carrey's take as the evil Grinch from Dr. Seuss' world. The perfect mix of sassy and mischievous; who cares if the Grinch stole Christmas, because Carrey already stole audiences' breathes from laughing so hard.
Carrey played the characters that people love to have at parties: goofy and over the top, yet smart and sincere at the same time. That's how he has become the comedy icon he is today. And instead of making fans cry from laughter, he made them cry from raw emotion and nostalgic love in Eternal Sunshine of the Spotless Mind. This 2004 film proved Carrey was not only funny, but he also had serious acting chops to back it up.
The actor's comedic heyday might have waned as the 2010s approached, especially looking at the lackluster performances in Mr. Popper's Penguins and Kick-Ass 2. He returns to SNL this weekend with Dumb and Dumber To coming out in November. 
And while it's unclear if Carrey will ever be as great as he was when he was a Roxbury Guy, fans can only hope. Thankfully, they can have a sample of what to expect Saturday night with this promo.