7 'Unsexy' Photos That Everyone Needs to See Before the Election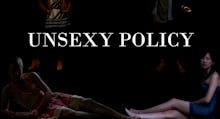 Sex sells — public policy, on the other hand, not so much. But the two together? Then you have something special.
That's the thinking behind a new campaign called "Unsexy Policy," the brainchild of Jillian McLaughlin, a grad student at the Harvard Kennedy School of Government (HKS), and photographer Peter Rausse. 
With the midterm elections coming up, the pair enlisted 15 current and former HKS students to strike their best poses alongside descriptions of important policy initiatives, ranging from the federal tax code to workplace discrimination.
"Certain issues get a lot of attention from the press and the public because they have very sympathetic victims and clear storylines, but those aren't necessarily always the most important issues," McLaughlin told Mic.
McLaughlin and Rausse launched the campaign to "raise awareness (and money) for important policy issues that are overlooked by politicians, philanthropy and the media," according to a press release. The accompanying Kickstarter campaign raised more than $1,000 in its first 24 hours, with the proceeds to be donated to an organization chosen by the group's Facebook fans.
After hatching the idea of getting "hot friends to pose with boring but significant policy proposals," McLaughlin polled her classmates for issues they found to be important but overlooked. The result is a 28-page calendar, complete with blurbs about some of the policy issues McLaughlin's peers hoped to highlight.
As for just how sexy the calendar is, Rausse said, "We wanted to make a calendar that was class enough for your grandma, but sexy enough to make you her favorite."
The photos represent a creative effort to start important conversations on meaningful issues. Sure, it would be nice if we didn't need sex to bring attention to important national issues, but at least these students are making the effort. If there's a more compelling way to advocate pegging the federal minimum wage to the Consumer Price Index, we haven't seen it.
So far, the efforts have been "pretty successful," McLaughlin said. The Kickstarter has raised more than $1,500 to date, and McLaughlin says the calendar has gotten a lot of attention on Facebook and Twitter.
"We want to get people really talking," McLaughlin says. "We need to make lawmakers care about the issues and make them understand what's important to us. That's kind of on us."
Images courtesy of Jillian McLaughlin