9 Brilliant Pieces of Science Fiction You Can Read in the Time It Takes to Eat Lunch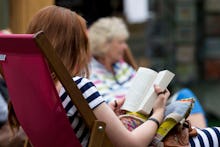 Time travel in the name of love. Post-apocalyptic war robots. Talking ponies. There's only one thing that can limit the scope of science fiction, and that's the degree to which you can stretch your imagination. Such tales may seem light-years away in plausibility, but their allegorical nature makes them universal as they tap into the core of human nature.
Contemporary giants in the genre such as Neal Stephenson's Cryptonomicon and this year's breakout award winner Ancillary Justice by Ann Leckie are fantastic and worth a read, but sometimes we're in the mood for some awesome appetizer-sized sci-fi. Thankfully, we have a lot to choose from.
Here are nine science fiction short stories that you can read while chowing down during your lunch break: 
1. "All Summer in a Day" by Ray Bradbury
Opening line: "Ready?"
What to expect: An Earth-to-Venus transplant. On Venus, the sun is only out for two hours every seven years. When the girl from Earth tries to describe the celestial body to the other students, they're blinded by disbelief.
Read this if you like: outer space, Matilda and Venus schoolyard bullies
Read "All Summer in a Day" here.
2. "Tideline" by Elizabeth Bear
Opening line: Chalcedony wasn't built for crying.
What to expect: As io9 puts it, this short work is the childhood classic The Giving Tree with a sci-fi twist. Instead of some generous timber, a machine develops a connection with a young boy (no, this is not a "student hot for robot" story). The self-aware bot meets the lad while scouring the shore for supplies for a memorial.
Read this if you like: war robots, Iron Giant and DIY projects
A sample of "Tideline" is available here.
3. "If You Were a Dinosaur, My Love" by Rachel Swirsky
Opening line: If you were a dinosaur, my love, then you would be a T-Rex.
What to expect: A woman talking to her paleontologist fiancé who has fallen into a coma. She uses her lover's affinity for dinosaurs to weave together a beautiful plea to awaken him from his slumber. 
Read this if you like: love stories, Jurassic Park and tearjerkers
Read "If You Were a Dinosaur, My Love" here.
4. "The Water That Falls on You From Nowhere" by John Chu
Opening line: The water that falls on you from nowhere when you lie is perfectly ordinary, but perfectly pure.
What to expect: A mystical world in which water falls from the sky whenever a person lies. The amount of water varies depending on how big the lie is. This setup is difficult for Matt, the protagonist, as he is hiding his gay identity from his traditional Chinese parents. 
Read this if you like: family dynamics, Angels in America and coming-out stories
Read "The Water That Falls on You from Nowhere" here.
5. "The Cold Equations" by Tom Godwin
Opening line: He was not alone.
What to expect: Pilot Barton is carrying vital medical supplies on his spaceship to the planet Woden. After blasting into space, Barton realizes he's carrying not only provisions, but also a stowaway named Marilyn trying to hitch a ride see her brother. But the vessel can't complete the mission, and Marilyn's extra weight on the spaceship is disastrous. 
Read this if you like: space travel, Serenity and siblings
Read "The Cold Equations" here.
6. "Impossible Dreams" by Tim Pratt
Opening line: Pete was walking home from the revival movie house, where he'd caught an evening showing of To Have and Have Not, when he first saw the video store.
What to expect: Movie buff Pete discovers a strange video store from an alternate universe, providing him an unthinkable number of movies to watch. There's even romance in this short -- a connection sparks between Pete and the store clerk.
Read this if you like: parallel universes, Garden State and that cute barista at the cafe you frequent 
Read "Impossible Dreams" here.
7. "Bridesicle" by Will McIntosh
Opening line: The words were gentle strokes, drawing her awake.
What to expect: A future in which careers offer great benefits like the ability to be cryogenically frozen. Mira, the protagonist, awakens in the future to be interviewed by lonely, potential male suitors. The catch? Mira is a lesbian.
Read this if you like: suspended animation, The Stepford Wives and really good life insurance
Read "Bridesicle" here.
8. "Ponies" by Kij Johnson
Opening line: The invitation card has a Western theme.
What to expect: What appears to be a simple story about a little girl and her equestrian companion turns out to be a showcase of just how sinister children can be.
Read this if you like: talking animals, My Little Pony: Friendship Is Magic and lost innocence
Read "Ponies" here.
9. "My Wife Hates Time Travel" by Adam Troy Castro
Opening line: From the very beginning — which I guess is also the middle and the end if you follow the bent logic involved and arrange events by some scheme other than strict chronological order — there was never any way of knowing which one of us, my wife or myself, was going to invent time travel.
What to expect: When a couple finds out that one of them will invent time travel in the future, their future selves keep popping in to give them some life guidance. 
Read this if you like: messy timelines, The Time Traveler's Wife and couples that show they love each other by bickering
Read "My Wife Hates Time Travel" here.
If you're craving more, be sure to check out the science fiction corner of your nearest bookstore.