The U.S. Is Working on an Ebola Vaccine — And You Have Dick Cheney to Thank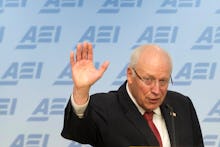 The news: Several Ebola drugs currently being tested have former Vice President Dick Cheney to thank for their origins.
The funding for seven drugs resulted from a wave of post-9/11 fear about biological warfare attacks on the United States, according to a new report by Bloomberg News. 
Cheney told Bloomberg the U.S. was forced to take biological weapons "seriously as a threat" after 9/11. "It has ramifications when the source of the problem you're dealing with is something like an outbreak of Ebola, but our prime motivation was to make certain we were prepared to deal with an attempt to use those substances in an attack," he said.
America's sense of worry and paranoia culminated in Project BioShield in 2004, which devoted $5.6 billion to developing drugs and vaccines for infectious diseases as well as incentivizing research toward treating these threats. 
When George W. Bush signed the Project BioShield bill into law, he claimed Cheney "was the point man in the White House" on the legislation.
As early as 2005, scientists were using government funds toward experimental Ebola vaccines as well as treatments for other potential bioweapons like anthrax and smallpox. And the money kept rolling in: Bloomberg News notes the National Institutes of Health's Ebola funding increased by over $40 million between 2000 and 2013.
The context: The current Ebola outbreak has killed nearly 5,000 people, according to the World Health Organization, which says the true number is likely closer to 15,000. 
There have recently been three (perhaps four) Ebola cases in the United States, which caused (and are still causing) hysteria in the media. 
To its credit, the pharmaceuticals industry is pumping out experimental vaccines as fast as they can. Johnson & Johnson plans to send a quarter-million doses of the vaccine to clinical trials in May 2015. However, as Mic reported, Canada is putting the international community to shame with its strong response to the Ebola crisis. Earlier this week Canadian officials announced they'd send 800 vials of experimental Ebola vaccine to the World Health Organization.
Don't give Cheney and the U.S. too much credit. First off, Johnson & Johnson's vaccines are based off Dutch and Danish chemicals. The next most prolific manufacturer of the vaccine is GlaxoSmithKline PLC, which is based in London and not the United States. Glaxo's Ebola vaccine is currently in safety trials in the U.S., the U.K. and Mali.
Additionally, the New York Times noted a separate company had a potentially viable Ebola vaccine in 2005 that could have been ready by 2010 at the earliest, but development stalled due to lack of funding. 
The problem isn't so much funding as it is bureaucratic incompetence. Bloomberg Businessweek reported in September that despite the ample opportunities to fund further development of the ZMapp Ebola vaccine, funding and research often got lost in the bureaucratic shuffle that is the federal government. "Every outbreak will make every administration look feckless and incompetent," conluded Bloomberg Businessweek's Brenden Greely. "But the U.S., at the very least, needs to admit to itself that to improve readiness, it needs to function like a drugmaker—and be good at it."
The takeaway: A billion dollars' worth of prevention is worth a trillion dollars of cure, it seems. While Cheney's efforts may have been a boon to America's efforts against Ebola a decade later, it's clear that the Western world (not just the U.S.) reacted too slowly in fighting the virus simply because it was only affecting the less wealthy (and less white) areas of the world.