Ebola Has Come to New York City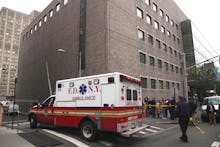 Ebola has come to the Big Apple.
A second test will be conducted by the Centers for Disease Control (CDC) to confirm the initial test.
Mayor Bill de Blasio said test results on the doctor would be made public, possibly late on Thursday evening.
Health care workers have spread out across the city to identify anyone Spencer might have come into contact with in recent days. According to a statement released by the New York City Department of Health, Spencer's travel history and the timing of his symptoms have led health officials to dispatch "disease detectives immediately began to actively trace all of the patient's contacts to identify anyone who may be at potential risk."
"It is our understanding very few people were in direct contact with him," de Blasio said at a news conference. "Every protocol has been followed."
The hospital is particularly well suited due to its long history of being on the front lines of epidemics and emerging public health threats, and managing an isolation unit for diseases, such as TB, for many years with support from and collaboration with the City Health Department.
Mashable notes that three other hospitals in New York City have also been designated by the state to treat suspected and confirmed Ebola cases: Mt. Sinai, New York Presbyterian in Manhattan and Montefiore in the Bronx.
At least 4,877 people have died in the world's worst recorded outbreak of Ebola, and at least 9,936 cases of the disease had been recorded as of Oct. 19, the World Health Organization (WHO) said on Wednesday.