The Army Just Made a Groundbreaking Ruling for Transgender Soldiers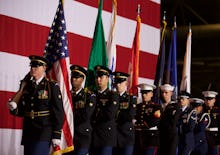 The news: This year, the Obama administration has been taking real, bold steps in support of transgender rights, from the president signing an executive order to ban workplace discrimination against LGBT federal employees to the Equal Employment Opportunity Commission filing two lawsuits last month against business accused of discriminatory hiring practices against trans people. And now, the U.S. Army is following suit.
On Thursday, the U.S. Office of Special Counsel (OSC) released a landmark investigative report holding the Army accountable for discrimination against Tamara Lusardi, a disabled veteran and an employee at the U.S. Army Aviation and Missile Research, Development and Engineering Center.
Lusardi, who transitioned in 2010, accused her supervisors and co-workers of hostile treatment, including forcing her to use a gender-neutral bathroom, decreasing her workload, referring to her with male pronouns and even describing her as "it."
And the OSC agreed with Lusardi's assessment. "Here, reviewing the totality of the circumstances, OSC finds that the acts at issue were sufficiently frequent, pervasive, and humiliating to constitute discriminatory harassment," the report found.
This is a big step for the Army, and for trans rights everywhere. Not only has the OSC ruling forced the Army into providing training about workplace discrimination and LGBT rights, but it has also shined a much-needed spotlight on how these hostile attitudes and practices prevail throughout the country.
According to a recent study by the National Center for Transgender Equality, around 90% of transgender Americans surveyed experienced "harassment, mistreatment or discrimination on the job or took actions like hiding who they are to avoid it," and it remains completely legal in 32 states for trans people to be fired for being who they are. That's not even considering the high levels of discrimination that trans people face in education, housing, health care and legal recognition.
Still, real changes remain on the horizon, including in the U.S. military. While the OSC ruling has spurred the Army to re-examine its treatment of trans employees, Secretary of Defense Chuck Hagel also promised earlier this year to review the possibility of trans soldiers openly serving in the military. And stories like Lusardi's help to keep the pressure on officials to enact these changes.
"We have served our country in silence," Lusardi told the Washington Post. "I hope my case and this decision will help other transgender people feel safe enough to bring their full authentic selves to work. This report makes clear that we don't have to put up with being mistreated on the job just because of who we are."