In New Low for Rape Apologists, Attorney Claims Client Was Too Drunk to Rape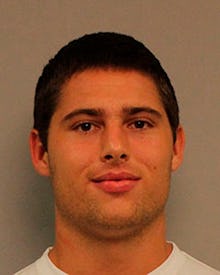 The attorney for a Vanderbilt football player accused of orchestrating a gang rape has dreamed up a defense that is sure to thrill even the most ignorant rape apologist: He was too drunk to know what he was doing.
The irony of using alcohol as a defense to excuse rape is unlikely to be lost on victims' advocates. Too often, a victim's state of intoxication is used against her; voluntarily intoxicated victims are likely to be viewed with skepticism and blamed for putting themselves in danger. Conversely, alcohol-fueled perpetrators are merely "accidental" rapists. In the context of the historical rhetoric of rape culture, this defense plan isn't just unfounded — it's offensive and sets the stage for slippery slope arguments that ultimately result in pundits claiming that women should be blamed in part for their own assaults. 
In June 2013, Brandon Vandenburg and three other football players — Brandon Banks, JaBorian McKenzie and Cory Batey — were dismissed from the team following allegations that they gang-raped Vandenburg's then-girlfriend in his dorm room. The four players were formally charged two months later with five counts each of aggravated rape and aggravated sexual battery. 
Deadspin then investigated the case and published disturbing details of the alleged rape:
The alleged rape occurred in Gillette House on the Vanderbilt campus, where a second-floor door was destroyed — seemingly kicked in — and security footage showed a stream of men entering and exiting a room. Then Vandenburg threw a towel over the camera.
Enter Vandenburg's mouthpiece, attorney John Herbison, who has since argued that his client was too drunk to be held responsible for his actions. The crux of this defense is a psychologist's two-page report arguing that Vandenburg was incapacitated — all this despite footage of Vandenburg demonstrating the foresight to cover the security camera, as well as physically carrying his unconscious girlfriend, the victim, from a car to the room. 
According to the Tennessean, prosecutors contend the report is "'purely speculative' and not based on science." Indeed, the psychologist based her report off a conversation with Vandenburg and after viewing the security footage. No blood alcohol tests were ever performed. 
While the judge hasn't yet ruled on the request, he did challenge the defense to "explain when intoxication has ever been used to justify a crime in Tennessee."
This defense might not have been used in Tennessee before, but it was recently used in Pennsylvania by a man who claimed he was too drunk to remember raping a teenage girl. To the outrage of some victims rights groups, the defense worked — and the man received a lenient sentence of 11 months to two years of  jail time.
This defense isn't just inappropriate, it's dangerous. Allowing someone accused of a violent crime to claim intoxication as a justifiable defense sets a thorny precedent with potentially far-reaching consequences. 
Scarily, this line of reasoning was supported by columnists like the Wall Street Journal's James Taranto, who argued earlier this year that both rapist and victim are equally responsible if alcohol is involved. He even went as far to say it was "self-evidently unjust" for intoxicated victims not to be held accountable for their own rapes.
It is already an injustice that victims' state of sobriety is used to determine the validity of sexual assaults and shift blame to the victim. Allowing accused rapists to use alcohol as a defense to shrug off responsibility takes rape apology to a whole new level and ignores the reality of sexual assault.
As ThinkProgress noted, "Rape isn't a mistake that college students accidentally make because they're too drunk; in fact, research into college rapists reveals that sexual assault is premeditated and victims are carefully chosen. Alcohol is a tool that rapists often use, but it's simply one tool among many."