Sorry, Lululemon, We're Not Buying This 'Bizarre' New Marketing Move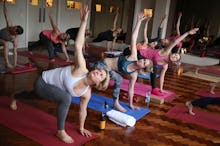 Activewear company Lululemon announced a new partnership Tuesday — with the Dalai Lama. 
The purveyors of see-through yoga pants and the Dalai Lama Center for Peace and Education will "build the capacity for communities to promote mindfulness, or a non-judgmental awareness on the present moment, to foster heart-mind wellbeing in children and youth." 
Lululemon also referenced a "variety of initiatives" the partnership will facilitate, including "researching the connection between mind-body-heart, sharing the work globally, and expanding the reach of the Center's Heart-Mind education initiatives." It's yet to be determined what any of this actually means.
As part of the partnership, the Vancouver-based company will also contribute about $750,000 over three years to support the Dalai Lama Center's work. 
Where do we begin? At the very least, Lululemon's financial commitment is commendable. The Dalai Lama Center is heavily involved with education and outreach, particularly as it relates to children, and it's open about the use of corporate sponsorships to help fund initiatives. 
But aside from this, the partnership is questionable at best. Lululemon is a massive luxury retailer that sells $100 yoga pants; the Dalai Lama has built his life and reputation around preaching modesty and fighting poverty. There might be a connection between the philosophy behind yoga and the Dalai Lama's teachings, but that connection becomes tenuous when you throw a for-profit retailer into the mix.
Lululemon has made some major missteps — remember when former CEO Chip Wilson implied that some women's bodies just don't work in yoga pants? — and this partnership seems like a not-so-subtle way to combat negative attention.
"There's a lot of disappointment," Jennilyn Carson, founder of YogaDork.com, told the Globe and Mail. "Some people are disgusted by it; some people think it's really bizarre ... Lululemon has had some interesting and questionable marketing tactics in the past years."
The problem is this: When a company is so clearly trying to get some good press — as Lululemon is here — it often backfires and makes them look transparent. Working with a Nobel Prize winner and all-around advocate for peace seems great, but when you're a corporate behemoth, it comes off as cynical and calculated. (The airy and meaningless language in the announcement certainly didn't help, either.)
To be fair, the Dalai Lama Center's decision to partner with a company like Lululemon is also dubious. But given the athletic company's past mistakes, they come out looking worse.