5 Ways a Republican Senate Would Be Disastrous for Millennials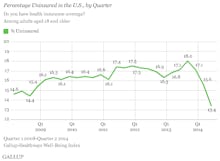 Gallup
Midterm elections might sound like a snooze, but that actually couldn't be further from the truth. This November, a lot is at stake — particularly for young Americans.
Republicans and Democrats are neck and neck in the race to gain control of the Senate. Polls are pointing toward a Republican victory, and if that pattern holds, Republicans will control both chambers of Congress, increasing their leverage over the Obama administration and allowing the GOP to pursue some eyebrow-raising policy initiatives.
Here are five ways a GOP-controlled Senate could be catastrophic for the younger generation:
No action on fixing student loans, extending unemployment benefits, or raising the minimum wage.
Senate Minority Leader Mitch McConnell (R-Ky.) — who would likely be majority leader if Republicans win the Senate — isn't too concerned about the issues that are most important to young people. At a gathering hosted by the Koch brothers in June, the Nation reported that McConnell said, "We're not going to be debating all these gosh darn proposals ... things like raising the minimum wage ... extending unemployment ... the student loan package."
For the estimated 3.3 million hourly workers earning the minimum wage or below — 50.4% of whom are ages 16 to 24, according to the Pew Research Center — this is cause for alarm. The federal minimum wage has not changed since 2009 and lags far behind inflation rates, which means "a parent who works full time, year-round, does not earn enough to be above the federal poverty line." 
As for student loans, the student debt in the U.S. now tops $1.2 trillion, with 7 in 10 college graduates leaving school with debt averaging $29,400. Coupled with high unemployment rates and ever-rising college costs, the situation is already dire for Millennial graduates. 
But McConnell doesn't seem too concerned. And the rest of the party has a worrying apathy toward issues important to young people.
Republicans would block Obama's judicial nominees, most of whom are pro-choice, pro-LGBT, pro-consumer judges.
Since Obama has taken office, he has completely transformed the D.C. Circuit, along with the federal courts. These courts have authority over national policy and could largely determine the trajectory of the remainder of Obama's second term. Republicans are already discussing plans to block Obama's nominations, as they would push the courts further to the left.
Democrats now hold a majority in 9 of the 13 circuits, of which Republicans previously held 10, according to the New Yorker. Obama has confirmed 280 judges. Of the judicial nominees Obama has confirmed, he has focused on including more minorities and more women, which previous presidents' nominee selections largely underrepresented. Republican leadership could sway the courts — and the future — by determining whether judicial nominees, who are lifelong appointees, will be on the bench, where they would sit for most of our working lives.
Things would get worse for women, particularly working women and their families.
All the Democratic efforts to make progress on minimum wage, paid family leave and affordable child care, along with other policies, would fall by the wayside. Republicans blocked equal pay for women for the fourth time last month on the basis that "the bill guaranteeing equal pay would actually make the job market worse for women." According to the GOP logic, employers would be so afraid of litigation they would rather avoid hiring women entirely.
A Republican takeover could also serve a blow to women's reproductive rights. McConnell has vowed that passing the ban on abortions after 20 weeks would be "one of his top priorities" if Republicans take the Senate.
Obamacare would be at risk.
Republicans have vowed to repeal Obamacare if they seize control of the Senate. While President Barack Obama would never sign a bill repealing his signature domestic achievement, Republicans would undoubtedly attempt to hack away at the law by attaching provisions to weaken the law onto unrelated, uncontroversial legislation, forcing the White House into a showdown.
And while the Affordable Care Act admittedly has had its share of issues and kinks, repealing it entirely — "root and branch," as McConnell likes to say — would take away health care from millions of people who now have access to insurance under the law. 
Between 2013 and first three months of 2014 alone, the Centers for Disease Control and Prevention reports that the number of uninsured adults dropped most significantly for those ages 19 to 25. The percentage of uninsured fell from 26.5% to 20.9% in the period of 15 months. America's uninsured rate now sits at 13.4%, which Gallup reports is the lowest it's been since they began tracking rates in 2008:
Obamacare also now allows Millennials to stay on their parents' health insurance until they turn 26. Since the enactment of the health care law, rates of young adults who are uninsured have declined considerably.
Immigration reform would be watered down.
Immigration reform, which is currently in limbo, might be taken up by a Republican majority, but likely without a satisfying and comprehensive solution. Although Republicans have been boasting that they could work out a deal with the House on the issue if they win the Senate, the reforms that they do pass likely wouldn't do much in the way of a solution for the 12 million undocumented people already in the U.S., New York Magazine reports.
Instead, according to New York Magazine, "Republicans also might pass a pared-down version of immigration reform, expanding visas and beefing up border security." In other words, Republicans could finally have the power to steamroll they've long wanted because it may be tough for Democrats to filibuster or veto their legislation.
So don't snooze on the midterm elections. Because, as the saying goes, you snooze, you lose. And this would be a pretty big loss, Millennials.
This post has been updated.