Forget Gay Marriage: Florida Won't Even Permit Gay Divorce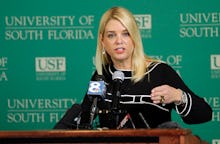 The news: How anti-gay is Florida Attorney General Pam Bondi? Not only is she a steadfast opponent of gay marriage, she won't even grant a gay divorce — a move that undermines the conservative logic that "civil unions" are just as good as same-sex marriage.
The Miami Herald reports that Bondi filed a brief Wednesday urging the Broward County Circuit Court to deny the dissolution of Lake Worth lesbian Heather Brassner's civil union with another woman, originally formed in 2002 in Vermont.
Brassner claims that four years ago, her then-partner cheated on her and hasn't been seen since. Vermont won't agree to a divorce without a signed affidavit from the missing woman, and with Gov. Rick Scott's conservative Florida administration still busy defending its gay marriage ban in a hopeless legal battle, Brassner has nowhere else to turn.
Bondi argues that since Florida doesn't recognize gay marriage, it has no power to dissolve the union. And even if its ban is overturned in court, Florida doesn't have to recognize a same-sex civil union.
"The petitioner also seeks a declaration regarding the Court's ability to dissolve same-sex marriages, even though the relationship at issue here is a Vermont civil union — not a same-sex marriage. No Florida appellate court has held that a civil union is equivalent to marriage for purposes of Florida's dissolution of marriage laws... this Court 'lacks jurisdiction to render declaratory relief.'"
Just more proof that civil unions aren't equal, especially not to anti-gay crusaders.
As Gawker's Adam Weinstein wrote, "In order to save marriage from gays, the twice-divorced Bondi will have to keep this one gay woman gay-married." Not only is traditional marriage super sacred, so is traditional divorce.
The background: Making this move particularly infuriating is Bondi's targeting of Brassner for purely political reasons. As the Herald notes, Broward Circuit Judge Dale Cohen — the same judge who ruled Florida's same-sex marriage ban unconstitutional, awaiting appeal — had previously announced he would grant her divorce, but ultimately denied it because her lawyer had "not properly notified the state when the case began." When Brassner immediately refiled the case, Bondi conveniently stepped in with the anti-gay brief just a few weeks before elections.
As the South Florida Sun Sentinel's Chan Lowe observed, "Evidently, it's too risky for the moral welfare of Floridians for the state to even legally recognize a same-sex divorce,"  making the move a "rear-guard action by zealots" to protect their retreat before the November elections, even though Bondi is heavily favored to win.
Despite the ruling of five separate judges that Florida's same-sex marriage ban is unconstitutional, Bondi continues to insist in court that lifting the ban "would impose significant public harm."
Bondi also wrote that "Florida's marriage laws have a close, direct and rational relationship to society's legitimate interest in increasing the likelihood that children will be born to and raised by the mothers and fathers who produced them in stable and enduring family units." (This position is not backed by any credible academic evidence.)
Why you should care: With the Supreme Court apparently unwilling to conclusively determine the constitutionality of same-sex marriage, this same battle is playing out across the country. Unfortunately for Bondi, it's a battle that anti-gay bigots are going to lose. Federal judges are incredibly unlikely to reverse their course in Florida. Kansas, Montana and South Carolina, three other states mounting legal defenses of their own gay marriage bans, are all expected to go down fighting.
Brassner will, one way or the other, get her divorce. But it's pretty upsetting that Bondi feels the need to continue this pointless fight. In a March 2013 poll, Public Policy Polling found that just 23% of Floridians opposed any form of legal recognition for same-sex couples, including just 25% of Republicans. This is just another example of Scott's administration catering to the extreme right, even if it means harassing one individual lesbian.