At Least One Company Isn't Trying to Ruin Thanksgiving for Everyone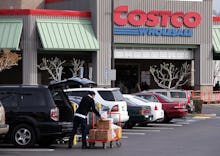 The news: Costco is playing the role of "good guy retailer" this Thanksgiving.
The massive chain store will close its doors on Nov. 27, allowing thousands of employees to spend the holiday with family and friends instead of working. Retailers such as Macy's and Target, on the other hand, will open early Thanksgiving morning to get a head start on Black Friday sales — a move that's terrible both for the employees and the throngs of customers, who inevitably feel compelled to start their shopping binges even earlier. 
"Our employees work especially hard during the holiday season and we simply believe that they deserve the opportunity to spend Thanksgiving with their families. Nothing more complicated than that," a Costco spokesperson told ThinkProgress.
Costco will join Sam's Club, Dillard's, Burlington, REI and American Girl in remaining closed on Thanksgiving. On the other end of the spectrum, corporate behemoth Walmart, which employs nearly a million people, will be open all day.
A continuation of good behavior: Costco is known for treating its employees relatively well. According to a 2013 Bloomberg Businessweek story, the company pays retail workers $20 an hour, which is much more than the national average of $11.39 an hour.
The company also provides healthcare for 88% of its employees — compare this to Walmart, which recently announced that it was cutting healthcare benefits for part-time workers.
"I just think people need to make a living wage with health benefits," Costco CEO Craig Jelinek told Businessweek. "It also puts more money back into the economy and creates a healthier country. It's really that simple."
It may seem like a small and obvious concession, but giving retail employees the day off on Thanksgiving is remarkably rare. The good news, though, is that there's at least one corporation out there with some semblance of a soul.
h/t Huffington Post