5 Videos to Remember Rock Legend and Cream Bassist Jack Bruce By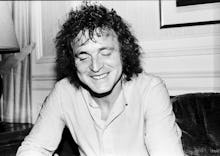 Jack Bruce, the singer and bassist most well-known for his work with Rock and Roll Hall of Fame band Cream, died Saturday at the age of 71 at his home in Suffolk, England. 
The announcement was made by his family via the musician's Facebook fan page, which read: "It is with great sadness that we, Jack's family, announce the passing of our beloved Jack: husband, father, granddad, and all round legend. The world of music will be a poorer place without him, but he lives on in his music and forever in our hearts."
Considered by some to be "one of the greatest bass players of all time," Bruce's influence and work was far-reaching and truly prolific. Pink Floyd bassist Roger Waters wrote of him in Rolling Stone's list of 100 Greatest Artists, "Then there's Jack Bruce — probably the most musically gifted bass player who's ever been."
He was a major player in the early days of rock and roll, forming what was effectively rock's first "super-group," Cream, with Eric Clapton and Ginger Baker. Through Cream only existed for roughly three years and four albums, they helped bring psychedelic, riff-based blues-rock to the forefront of pop music and set the groundwork that would define a generation of music. 
After Cream's break-up however, Bruce still had a successful career, working with countless other musicians and releasing another 14 solo studio albums. 
Perhaps because he wasn't shredding the solos or didn't have the post-Cream career Eric Clapton enjoyed, Bruce has sometimes been overlooked in his contributions to the band and to the genre of music in general. Nevertheless here are five videos that show why you should remember Jack Bruce, from his early days right up into his later years.  
1967 - "Sunshine of Your Love"
One of Cream's (and rock music's) most iconic songs and riffs was written by Bruce himself. The heavy tone and simple riff that ran through the song are instantly recognizable and completely awesome, and they provide a perfect backdrop to Bruce's stunning vocal lines. 
1968 - "White Room"
Also written and sung by Bruce, "White Room" is another one of Cream's most recognizable songs, and for good reason. With their classic mix of fuzzy psychedelics, soaring but controlled vocal lines, heavy instrumentation and out-of-their-mind yet poetic lyrics, "White Room" is another example of what happens when you give Bruce two more amazing musicians and see what happens. 
1969 - "Theme for an Imaginary Western"
Written with his long-time lyrical collaborator Pete Brown, "Theme for an Imaginary Western" was one of Bruce's first releases after Cream's break-up. The song showcases Bruce's writing abilities and quickly became a musician's favorite, going on to be covered by a variety of acts. Though Bruce might be mostly remembered for his work with Cream, we shouldn't forget all the great music he produced after that. 
2005 - "I'm So Glad"
Though not written by Cream (it was first recorded by Skip James in 1931), the band included their cover version of this song on their debut album Fresh Cream in 1966 and again as a live version on their farewell album Goodbye in 1969. But what makes this particular performance so special is that it comes from the band's 2005 reunion showcases at the Royal Albert Hall and shows that even more than 35 years later, Cream and Bruce could still rock.
2008 - "Sunshine" solo
It might seem lazy to include "Sunshine of Your Love" twice on this mini-list, but this short fan-recorded clip is an awesome example Bruce's true musicianship and bass-playing abilities. As a low-registering instrument, it can be hard for many people to pick up on exactly what the bass player is doing in a song. But in the live performance from 2008, Bruce lets loose, and any doubts about what a bass player can really do go immediately out the window.