Darth Vader Is Running for Parliament in Ukraine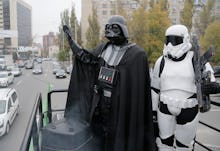 Darth Vader finds the lack of faith in Ukrainian government disturbing. Disturbing enough, in fact, that he's embarking on a run for office.
Well, technically, he's Darth Alekseyevich Vader. And technically, he drives around a van instead of a spaceship. Plus, he wasn't technically even allowed to vote. But he's not letting any of that stop him.
Take a look:
Viktor Shevchenko changed his name before the elections, according to the Associated Press, and now campaigns in full "force." His "Internet Party" is unlikely to get enough votes to take any seats in the legislature, but his schtick still seems to be quite popular. And it's not like he's ignoring the big issues.
"When I get to parliament, I will expel all the deputies. They have proven their uselessness," he told the AP. "Computers will work in their place and they will fulfill their functions without cease."
Vader refuses to show his own face, wearing his Star Wars getup at all times. He was banned from voting in the country's presidential election because he wouldn't take off his mask.
The vote: As Ukraine looks forward to the election, not all citizens will be going to the polls.
Crimea, which Russia invaded and annexed, will not be holding any vote. Areas in the east under the control of separatist rebels will similarly be left out. As Time explains, lawmakers there aren't expecting much to get done when those regions can't even be represented.
The past month and a half has seen a downtick in fighting, with new president Petro Poroshenko pursuing a peace agreement that would give rebel-controlled areas more autonomy. Hardliners, though, think those concessions are a sign of weakness and are pushing for a military victory.
As for Vader, he's got his own plan. He wants to get Crimea back and drive the rebels out in his own unique fashion. "A military space station will be built," he said, "that will protect the whole territory of Ukraine."