Canadian Residents Had the Perfect Response to the Vandalization of a Mosque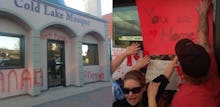 When Mahmoud Elkadri arrived at the Cold Lake Mosque in Cold Lake, Alberta, on Friday morning, he discovered something awful: The building had been vandalized. The words "Go Home" were spray-painted in red across the walls, and the windows were smashed in.
Instead of simply standing by, however, Cold Lake residents sprung into action. A number of volunteers arrived shortly after the defacement was discovered to clean up the site; they scrubbed the walls, helped replace the glass and displayed signs that said "Love Your Neighbor."
"People just showed up. We didn't ask," Kelly Ross, a hairstylist who works next to the mosque, told the Edmonton Journal. "People came up with buckets and scrubbers and WD-40 and anything to get it off. People saw it, so they stopped and offered help."
Craig Copeland, the mayor of Cold Lake, said that while the incident was "extremely disappointing," it "by no means represents Cold Lake. Some individuals took it upon themselves to do this."
The vandalism comes two days after a gunman — believed to be a convert to radical Islam — shot and killed a Canadian soldier in Ottawa. While Mahmoud Elkadri told CTV News that he didn't believe the vandalism was tied to anti-Muslim feelings, he also told Global News that before Friday, there hadn't been an attack on the mosque in its four years in Cold Lake.
Regardless of the vandal's motivation, residents of Cold Lake were quick to comfort the mosque's members, as well as the town's larger Muslim community.
"Just what's spray painted on the mosque, I mean, 'go home'... The Muslim community here is at home here in Cold Lake," said Mayor Copeland.
Ihsaan Gardee, the executive director of the National Council of Canadian Muslims, added that the sentiment behind the vandalism isn't widely representative. "It's kind of ironic that the word Canada was printed [there] because I think the vast majority of our fellow citizens would say this is un-Canadian," Gardee said.
People also took to Twitter to call out the vandalism:
In the face of such an egregious crime, it's inspiring to see such a swift and sound response from both the residents and authorities in Cold Lake. Yet again, Canada has shown everyone how it's done.