Watch SNL Pay Homage to Jim Carrey's Most Beloved Characters in One Sketch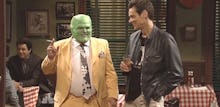 Ace Ventura. Lloyd Christmas. Truman Burbank.
As the host of this weekend's episode of Saturday Night Live, Jim Carrey and the cast parodied some of his classic movie characters in what was probably one of the best sketches of the night.
In a sketch titled "Jim Carrey's Family Reunion," the cast of SNL delightfully roasted many of Carrey's most famous characters, like Ace Ventura and Lloyd Christmas. There was even a guest appearance from Jeff Daniels, the co-star of the Dumb and Dumber franchise, presumably to further promote the duo's upcoming Dumb and Dumber To.
Unfortunately for Carrey and the SNL cast, the A.V. Club wasn't kind to the episode, claiming that "the good — barely — outweighed the bad." Though Carrey's fairly hilarious, albeit cheesy Elvis impersonation was a good start to the night, other sketches floundered, including one that basically amounted to Carrey and Kate McKinnon dancing around in flesh-colored body suits, mocking the video for "Chandelier." The A.V. Club called it "a pop culture reference with a tiny shelf life being an excuse for two performers to gad about."
That said, a series of fake ads parodying the Matthew McConaughey ads for Lincoln cars were pretty spot-on:
Even though the episode had its highs and lows, the "Carrey Reunion" sketch was enough to split the sides of any seasoned veteran of '90s culture. And say what you will about "SNL these days," but Jim Carrey's hilarious antics once again proved why Judd Apatow calls Carrey, "the funniest man on earth."