One Nurse's Intense Story Captures the Biggest Challenge for the US Ebola Response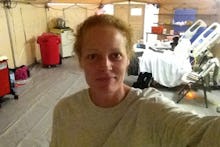 The news: If you want to see what government Ebola anxiety looks like in action, look no further than the disturbing ordeal of nurse Kaci Hickox, whose harrowing tale reveals a delicate balancing act between precaution and overreaction by politicians responding to the presence of Ebola in the U.S.
Hickox, an epidemiologist, volunteered for a month with Doctors Without Borders in Sierra Leone, one of the three West African countries at the heart of the ongoing Ebola epidemic. When she landed in Newark Liberty International Airport in New Jersey on Friday, she showed no visible signs of Ebola and had normal temperature readings.
Hickox recounted her experience an op-ed for the Dallas Morning News:
Eight police cars escorted me to the University Hospital in Newark. Sirens blared, lights flashed. Again, I wondered what I had done wrong.
This is what fear-based policy looks like. The New York metro area has been at the center of Ebola anxiety since the revelation that Dr. Craig Spencer, another Doctors Without Borders volunteer who was recently diagnosed with Ebola after returning from Guinea, traveled freely throughout New York after his return. While Spencer has since been quarantined, many have expressed anxiety that Spender could have unwittingly spread the disease throughout the Big Apple, despite the fact that these fears are relatively unfounded.
Since then, Cuomo and Christie have announced a strict, joint policy of a mandatory, 21-day quarantine for anyone flying through Newark or John F. Kennedy International Airport who has had contact with Ebola patients. "The government's job is to protect safety and health of our citizens," Christie said on Fox News Sunday, defending the policy. "I have no second thoughts about it."
But though Christie described Hickox as "obviously ill," the nurse retorted the governor never once laid eyes on her, and there is no medical basis for her continued confinement.
"It is not based on any clear public health evidence," Hickox added. "It's not the recommendation of public health and medical experts at this point. You know, I think we have to be very careful about letting politicians make medical and public health decisions, and all of the evidence about Ebola shows that if you are not symptomatic, you are not infectious."
Why it matters. Hickox's worry that her colleagues might feel like "criminals and prisoners" upon returning from their volunteer work has a real basis for concern; given how West Africa is currently strapped for volunteers and resources, America can't afford discouraging a potential volunteer if it wants to stop this epidemic at its source.
Officials from the Health and Human Services Department, the National Institute of Allergy and Infectious Diseases, and even U.N. Ambassador Samantha Power have criticized the new policy for not only being medically unsound but for effectively punishing medical volunteers for their work.
"All of us need to make clear what these health workers mean to us and how much we value their services, how much we value their contribution," Power said Sunday on NBC's Meet the Press. "We need to make sure they are treated like conquering heroes."
Even New York City Mayor Bill de Blasio has come out publicly against the handling of Hickox's case. "This hero was treated with disrespect and was not given a clear direction," he said at a news conference on Sunday. "We owe her better than that, and all the people who do this work, better than that."
The federal government is already taking steps to strike a balance between the rights and dignity of aid workers and public safety. On Sunday, New York released new guidelines for Ebola quarantines following pressure from the White House.