22 Inspiring Photos Remind Us What Democracy Looks Like Around the World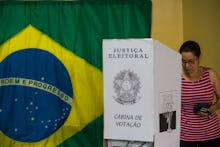 The news: As Americans cast their ballots in the 2014 midterm elections, millions of people around the world have also been heading to the polls. Voters in Brazil, Tunisia, Ukraine and Uruguay cast their ballots this weekend in countries facing political turmoil, post-revolutionary hangovers and rattled economies. 
Just as likely runoffs, party switchers and tight races mark the battle for the U.S. Senate, these young democracies are demonstrating the comings and goings of a healthy democratic system.
Ukraine 
Amid continued fighting between Ukrainian forces and pro-Russian separatists, thousands of Ukrainians cast their ballots at a polling station in parliamentary elections on Sunday in the capital city of Kiev. 
Analysts argue that pro-Western parties will dominate parliament after President Petro Poroshenko's election win, reports Reuters. The newly elected president has a mandate to end the conflict and pivot the country away from Russia and toward Europe.
Brazil
Supporters of Brazilian President and Workers' Party candidate Dilma Rousseff celebrated this weekend after Rousseff was re-elected with 51% of the vote, defeating the Brazilian Social Democratic Party's candidate Aécio Neves in a runoff. 
Tunisia
More than 5 million Tunisians went to polling stations Monday to elect 217 members of the new parliament. The voting marked the first democratically elected legislature in the history of Tunisia, an event sparked by the Arab Spring of 2012.
Uruguay
Presidential candidates greeted and kissed voters across Uruguay this weekend as they stood in lines to cast their ballots. Exit polls and partial results Monday morning indicate that the candidate from President Jose Mujica's party has won most votes in the presidential election.
If he wins, Tabare Vazquez of the Broad Front party will face Luis Lacalle Pou of the right-wing National Party. Meanwhile, Mujica, known for his frugal lifestyle, traveled to a polling station in a Volkswagen Beetle. Uruguay's constitution forbids presidents to run for a second consecutive term.