LeVar Burton's Reading of 'Go the F*ck to Sleep' Will Ruin Your Childhood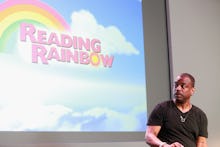 A group of adults had grown-up story time when LeVar Burton stopped by Rooster Teeth's Extra Life charity drive over the weekend. The beloved host of Reading Rainbow got explicit as he read aloud from Go the Fuck to Sleep, the bedtime story spoof by Adam Mansbach.
Those who loved watching the educational programming hosted by a friendly, welcoming Burton when they were a child can now hear him demand, "No more questions. This interview's over. I've got two words for you, kid: fucking sleep." While Tina Fabrique, who belted the show's original opening tune, is nowhere to be heard, Burton nails the classic Reading Rainbow tone and inflection.
In the video, he reminds adults how much fun story time on a carpet can be. Check it out:
Reading Rainbow made kids excited about books and the themes they explored since it started in 1983. The Go the Fuck to Sleep story time taps into the memories and hearts of people who fell in love with reading with the help of the show.
The show has been back on the pop culture radar since May, when Burton's Kickstarter effort to bring it back far surpassed its initial goal of $1 million in just half a day. He's hoping to turn Reading Rainbow into a Web production for families and classrooms that sparks children's love for reading and learning.
h/t Vulture