OK Go Releases Their Latest Creative Masterpiece for 'I Won't Let You Down'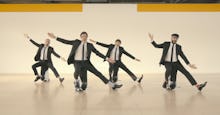 By combining clever ideas and creative camerawork, OK Go never disappoints fans with their inventive music videos. The band is back to its brilliant ways with the soon-to-be-viral video for "I Won't Let You Down" off their newest album, Hungry Ghosts.
Complete with aerial shots and colorful umbrellas, the video once again proves OK Go knows how to impress its audience. "I Won't Let You Down" has the bandmates riding self-balancing, motorized unicycles while grooving and moving. By using different colored and patterned umbrellas, along with a flurry of dancers, OK Go tricks the eye in more than a few ways.
At first, it seems like the band only has some flashy moves while riding the Segway-wannabes in a warehouse. But soon after, they transform one illusion into another, such as a kaleidoscope and LED banner.
OK Go has wowed fans by sliding side to side on treadmills for their "Here It Goes Again" music video, employing an epic Rube Goldberg machine for "This Too Shall Pass" and playing with perspective in "The Writing's On The Wall" (and even claims that Apple might have played copycat). The band's videos are always the perfect blend of ingenuity, athletics and optics.
Most musicians and bands depend on the standard music video framework of some sort of visual narrative that matches the song's lyrics, but OK Go has reinvented the music video. They might not be the biggest stars on the scene, but they've shown themselves to be artists that elevate audiences' experience.
As for the actual song? Pretty darn dance-y.