8 Amazing Country Singers to Listen To, Now That Taylor Swift Is a Pop Star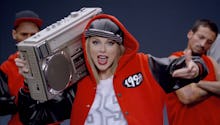 It's been a long time since anyone could rightfully call Taylor Swift a true country artist. With a slew of pop hits over the last few years, Swift has had one foot out of the country world for a while now. With this week's release of Swift's fifth album, 1989, she's officially traded in her cowgirl boots for stilettos.
Fear not, though. For those of you who miss twangy Taylor and need a dose of country in your daily playlist (or just need a break from playing "Blank Space" on repeat), here are eight country artists who will more than fill the Swift-shaped hole in your heart.
1. Sam Hunt
Country newcomer Sam Hunt is also releasing an album this week. His Montevallo hits shelves on the heels of major success with his breakout single "Leave the Night On." If any new country star today is poised to see crossover success a la Swift, it's Hunt, whose hook-laden, unorthodox brand of country pulls from hip-hop, R&B and contemporary pop. 
2. Lee Ann Womack
Lee Ann Womack became something of a household name with her 2000 crossover smash "I Hope You Dance," which, in addition to being played at every prom ever, was also performed by Womack at Maya Angelou's funeral earlier this year.
Womack's latest album, The Way I'm Livin', received widespread critical acclaim and is one of her best releases to date.
3. The Cadillac Three
You may not know many Cadillac Three songs, but you've likely heard a song by lead singer Jaren Johnston. He's been a pen-for-hire for many a Nashville act, including Tim McGraw and Jake Owen, but he and his bandmates rock just as hard on their own with songs like "Party Like You" and "The South."
4. Lee Brice
Lee Brice has been skirting leading man status in country for a while now, but his most recent album, I Don't Dance, proves he's more than worthy. With influences as diverse as Garth Brooks and the Rolling Stones, Brice is making well-crafted country music that is as listenable as it is interesting.
5. Sturgill Simpson
Although Sturgill Simpson cleaned up at the Americana Music Awards earlier this fall, he's a country artist through and through. Taking cues from classic country, his latest album, Metamodern Sounds in Country Music, is sure to be a classic in its own right. 
6. Angaleena Presley
As one-third of the Pistol Annies, Angaleena Presley is no stranger to the spotlight. With her debut solo album American Middle Class, she treads similar territory to classic songstresses like Loretta Lynn and Dolly Parton. Her refusal to romanticize the trappings of small-town life makes her a welcome anomaly in the country genre. 
7. Little Big Town
Little Big Town has been a force in country music for several albums now, but their latest album, Pain Killer, has cemented the quartet as worthy mainstays. Check out album opener "Quit Breaking Up With Me" and "Girl Crush," an unexpected take on unrequited love that's sure to have people talking. 
8. Caitlyn Smith
Like the Cadillac Three's Jaren Johnston, Caitlyn Smith first made a name for herself writing hits for other stars, including Lady Antebellum, Rascal Flatts and a lady by the name of Dolly Parton. This week, she's releasing her first solo EP, Everything to You, a collection of songs that proves her artistry is just as powerful as her songwriting.