To Understand the Midterm Elections, Follow These 7 Crucial Senate Races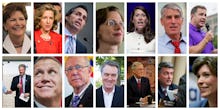 The big headlines this midterm election cycle have centered on which party will win — or lose — control of the Senate. But this is not a national race, no matter how much Republicans talk about President Barack Obama. The fight for the Senate majority will be decided in a relatively small number of states, each with a unique combination of issues and personal narrative driving voters to the polls. 
If you're like most people, you might be just tuning in to the political conversation. To get you up to speed, here is a comprehensive guide to the seven crucial races that will decide control of the Senate for the next two years, with a look at the candidates in each race, what's at stake and how they're likely to pan out:
Kansas
Who's running? Independent Greg Orman is challenging longtime Republican Sen. Pat Roberts.
What are the major differences between the candidates? Orman supports abortion rights. Roberts does not. Orman has campaigned on a promise to help get big money out of politics, but he has also accepted cash and support from billionaire outside donors. Orman has not said which party he'd vote with in Senate, but the Democrats pulled their candidate out of the race in September, paving the way for Orman to capitalize on their voters. He owes them.
Roberts has been in the Senate since 1977. He was expected to win re-election easily. His struggles have forced Republicans to redirect money and resources, including campaign visits from Ted Cruz and Paul Ryan, to help Roberts. Orman ran for this seat in 1998 as a Democrat, but quit that race early. He made most of his personal fortune (an estimated $21.5 million) through a private equity firm.  
Who will win? Orman came out of nowhere to take a big lead earlier this month, but Roberts has clawed his way back to make this one of the most volatile races of the cycle. 
North Carolina
Who's running? Republican Thom Tillis is trying to unseat Democratic Sen. Kay Hagan. The campaigns and outside groups have combined to spend more than $100 million on this one seat. 
What are the major differences between the candidates? Tillis is a very popular state legislator. Hagan is a first-term U.S. senator who is tied to the very unpopular Obama. Though he has changed his tune during the campaign, Tillis has been hurt by his apparent support for Republican tactics that led to the 2013 federal government shutdown.
Hagan's biggest advantage is with women voters. An Elon University poll showed her holding an astonishing 65-18 lead among single women. 
Who will win? In an originally neck-and-neck race, Hagan is now in good shape to return to her seat:
Kentucky
Who's running? Democrat Alison Lundergan Grimes is challenging incumbent Republican Sen. Mitch McConnell, the Senate minority leader. Lundergan Grimes would become the state's first-ever female senator if she wins.
What are the major differences between the candidates? Lundergan Grimes has attacked McConnell for his voting records on issues like the Paycheck Fairness Act and the Violence Against Women Act. McConnell has sought to tie Lundergan Grimes to Obama. She has made some embarrassing headlines by repeatedly refusing to say whether she voted for him in 2012. Lundergan Grimes has also caught flak for Obama's plan to cut carbon emissions, which is not popular in this coal-mining state.
Lundergan Grimes is backed by Democrats like Bill and Hillary Clinton. Her father, Jerry Lundergan, is a former Kentucky governor and congressman. McConnell has been a staple in the Senate for over 30 years. If the Republicans win the Senate, he'd most likely be the new majority leader.
Who will win? Though McConnell has maintained a small but consistent lead in most polls, he seems to have locked this one up.
Iowa
Who's running? Republican Joni Ernst and Democrat Bruce Braley are seeking to replace retiring Democratic Sen. Tom Harkin.
What are the major differences between the candidates? The minimum wage has been a big issue in the campaign. Braley wants to see it raised from $7.25 to $10.10 per hour. Ernst opposes any hike and has suggested there should be no federal minimum wage at all. Ernst is probably the most high-profile tea party candidate in the field this cycle. She says she doesn't know if climate change is caused by humans and wants to shut down the Department of Education and Environmental Protection Agency.
Braley took a big hit when he was caught on tape at an out-of-state fundraiser warning that a Republican-controlled Senate would mean more power for a "farmer from Iowa who never went to law school." That "farmer" is Sen. Chuck Grassley, the state's senior senator. 
Who will win? This back-and-forth race has in Ernst's favor. 
Colorado
Who's running? Republican Congressman Cory Gardner is challenging first-term incumbent Democratic Sen. Mark Udall.
What are the major differences between the candidates? Udall has relied heavily on two issues in this campaign: women and the environment. He has repeatedly attacked Gardner for supporting anti-abortion "personhood" laws during his time as a state representative. Gardner says he regrets those votes, but only because they would have blocked access to birth control. Udall's environmental credentials are strong, though he has waffled on his opposition to fracking. Gardner has pushed for less stringent regulations on energy companies.
Udall was elected along with Obama in 2008. He has strong political ties out West and in Washington, where his cousin, Tom, is the senior senator from New Mexico. Gardner was elected to Congress as part of the 2010 "tea party takeover."
Who will win? Udall has blown a big lead and now trails in most polls. The projection suggests Gardner will unseat the incumbent, a big win for Republicans trying to gain control of the Senate.
Georgia
Who's running? Democrat Michelle Nunn and Republican David Perdue are vying for the seat left behind by retiring Republican Sen. Saxby Chambliss.
What are the major differences between the candidates? Nunn's campaign got its biggest boost when Perdue told reporters he was "proud" of the job outsourcing carried out by private companies he had run. 
Perdue has mostly pegged his pitch to a promise to help "repeal and replace Obamacare." He says a vote for Nunn, the daughter of former Democratic Sen. Sam Nunn, is like a vote for Obama.
Important note: Nunn says she will back construction of the Keystone XL pipeline, which would deliver tar sands from Canada to the U.S. Gulf Coast for refinement into oil. Environmentalists and most fellow Democrats strongly oppose its construction, so Nunn is using her support as evidence that voters in this mostly red state can trust her to work with Republicans. (Perdue backs the plan, too, but so does almost everyone in the GOP.)
Who will win? This one looks like it's going to Perdue.
New Hampshire
Who's running? Incumbent Democratic Sen. Jeanne Shaheen is being challenged by former Massachusetts Sen. Scott Brown, a Republican. 
What are the major differences between the candidates? Like so many other Republican candidates this year, Brown has tried to make this race about Obama. He repeatedly states that Shaheen has voted with the president "99% of the time." As the New York Times reported, he recently said she had done so "over 100% of the time," which would be quite a feat.
Brown also suggested in an ad that IS militants from the Middle East were trying to cross into the U.S. via unsecured borders. Shaheen supports comprehensive immigration reform, which is why Brown attacked her on border security. 
Both candidates have said they oppose legalizing marijuana.
Brown relocated to New Hampshire after losing his seat to Democrat Elizabeth Warren in the 2012 election. Shaheen is a fixture in state politics. She was the first woman elected governor of New Hampshire, serving three two-year terms from 1997-2003. 
Who will win? Shaheen has rarely, if ever, trailed in the polls. She is primed to win re-election.
The 2014 midterm election cycle ends Tuesday night (except maybe in Georgia and Louisiana), but the country will feel its effects for years to come. The party that controls the Senate controls a big part of the debate in Washington and, eventually, across the country as the next presidential campaign begins. 
If you want to understand why the polls are shifting and what the results will mean in 2015 and beyond, learn as much as you can about these seven races.
This post has been updated.