All the Reasons Taylor Swift Has Won 2014 Before It's Even Over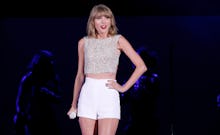 Happy Taylor Swift Day! This is what Oct. 27 will be known as from now on, according to the Internet.
For the past 24 hours, the Internet has been abuzz with talk celebrating Swift's latest triumphs, one of which was the midnight release of her long-awaited 1989. It sparked a huge outpouring of thanks and praise from her fans, including Lena Dunham from HBO's Girls, who is among the most vocal:
Containing our celebration of T. Swift to a single date is nearly impossible, as she's been killing it the entire year. From the incredible music she's released to the records she's broken, from the heartwarming friendships she's created to the epic victories she's won for feminism, 2014 will be remembered as the Year of the Swift for so many reasons: 
1. She released the best pop album of the year.
Swift took a lot flak recently for shedding some of the country styling that had distinguished her from the outset. Yet while she may be making more standard-sounding music, critics are eating it up. Several have praised her new album for featuring her most personal lyrics. Rolling Stone wrote, "Deeply weird, feverishly emotional, wildly enthusiastic, 1989 sounds exactly like Taylor Swift, even when it sounds like nothing she's ever tried before."
2. Her album is so good, it might actually go platinum.
By this time last year, the RIAA had certified five new platinum albums. This year we've had zero. But Swift's sales estimates are currently shooting through the roof, and 1989 is now expected to sell 900,000 copies in its first week. If that happens, Taylor would only need to move 100,000 more over the coming eight weeks to hit that mil. 
3. She's topped the charts with every single she's released this year.
"Shake It Off" hit No. 1 on the Billboard Hot 100. "Out of the Woods" hit No. 1 on the digital downloads charts. She even topped the Canadian iTunes charts with an accidentally released track that was only 8 seconds of static.
4. Her chart success has made her the second-most charting female musician of all time.
"Shake It Off" scored Taylor her 60th song on the Billboard Top 100, bringing her up to the No. 2 most charting female artist of all time. Only Aretha Franklin currently sits above her with 72, and though the soul queen is still winning, Swift is hot on her heels.
5. She's Billboard's Woman of the Year, becoming the only artist to ever win that award twice.
"As one of the most influential artists of her generation, Taylor Swift has seen incredible success on the Billboard charts. Over the course of her career, she's charted 60 entries on the Billboard Hot 100 -- the most of any female artist since her debut in 2006. We are tremendously excited to be honoring her as the 2014 Billboard Woman of the Year for the second time," said Janice Min, co-president and chief creative officer of Guggenheim Media's Entertainment Group, which owns Billboard. 
Congratulations, T!
6. She can save the music industry.
It's a tall order, but Bloomberg Businessweek makes a compelling argument. If 1989 sells, she will disprove all the speculation that the album format is dead.
7. She became an official NYC Welcome Ambassador.
Even though T-Swift has only lived in the city for 9 months, she's already become one of its most vocal and enthusiastic advocates. "Everywhere you look," she said, "it's impossible not to fall in love or be affected by something in New York City." 
8. She is set to become one of the most-loved coaches on The Voice.
Swift will be the sole celebrity advisor to the contestants on The Voice during their knockout round, which airs tonight. One more reason why today is Taylor Swift Day without a doubt.
9. She showed love to hip-hop, and it embraced her back.
In an interview with Rolling Stone, Swift revealed her secret weapon to block out paparazzi and other toxic elements in her life: She listens to Kendrick Lamar's "Backseat Freestyle." She claimed it helps her "immediately go from feeling victimized to feeling awesome." Lamar praised Swift right back, saying she's doing wonders to support hip-hop culture. That's a hell of a co-sign.
10. She's got the biggest pop stars to covering her work.
Kelly Clarkson recently gave "Shake It Off" a spine-tingling gospel treatment, introducing it to her audience as "one of my favorite songs out right now." Taylor wholeheartedly  approved .
11. Her music inspired one of the most intriguing musical mash-ups of the year.
Source: Soundcloud
Earlier this year, cartoonist and television host David Rees created one of the most epic and unlikely music mash-ups in recent memory, combining the electronic production of Aphex Twin with Taylor Swift's perfect pop sensibilities to create Aphex Swift . It's astounding how cohesive it sounds. Some ideas are just crazy enough to work.
12. She owned this hilarious leotard at the Grammys...
It's far from your typical awards dress, but she absolutely rocked it.
13. ...and cut some incredible moves in said leotard.
She always rocks that.
14. She became friends with Lena Dunham.
"Becoming friends with Lena — without her preaching to me, but just seeing why she believes what she believes, why she says what she says, why she stands for what she stands for — has made me realize that I've been taking a feminist stance without actually saying so," said Swift in an interview with the Guardian. So we really have Dunham to thank for...
15. She became the year's most unexpected and outspoken feminist.
Swift dropped some incredibly insightful feminist gems on her recent appearance on the French Canadian television show Tout le Monde en Parle. In it, she praised Emma Watson's recent U.N. appearance. "I wish, when I was 12 years old, I had been able to watch a video of my favorite actress explaining in such an intellectual, beautiful, poignant way the definition of feminism," Swift said. 
Now that 12-year-old girls' favorite actress and favorite singer are both making strong feminist statements, the future is looking bright for the movement.
16. She connected with Lorde.
It might seem that Lorde's dark and brooding visual and musical aesthetic could not be farther from Taylor Swift's bright, blonde playfulness, but the two have become fast friends nonetheless. Is the next female pop supergroup in the works?
17. She can make one hell of an apple pie.
What pop star can boast crusting techniques like that? 
18. She even got Lorde into baking.
Taylor Swift is more American than apple pie.
18. She owned a meme that was created to mock her.
Earlier this year, Swift became the butt of an absurd viral meme, in which a ridiculous Tumblr poster tried to pass off a picture of a young Taylor Swift as a friend recently deceased friend named Becky. Rather than get offended or caught up in the confusing absurdity of the joke, Swift decided to make it her own and appeared in a "No, It's Becky" shirt. Now "No, It's Becky" is the perfect anti-Taylor-hate fuel.
19. Despite all her success, she still finds time to give back to her fans.
Earlier this year, she visited Jordan at Boston Children's Hospital and together they sang her song "We Are Never Ever Getting Back Together." The video is a guaranteed heart-melter.
20. She also recently threw a pizza party for her fans in her apartment.
When the "Shake It Off" single debuted, Swift celebrated by inviting over 90 of the most important people responsible for making it's success a reality – her fans. Few artists work so hard to build such incredible relationships.
21. She stitched 2014's most epic needlepoint.
As a gift for her best bud Ed Sheeran. T. Swift would make an awesome friend.
22. She appeared in an adaptation of a beloved children's book.
Swift made an excellent cameo in The Giver, playing piano alongside Jeff Bridges. Her talents know no boundaries.
23. She made one of the most epic Ice Bucket Challenge videos.
It spanned three Instagram videos. And one actually focused entirely on the money she donated, so it wasn't just a big wet T-Swift contest.
24. She finds the best photo ops.
You wish your Instagram game was as epic.
The "awwww" heard 'round the world.