Campus Task Force Concludes That Yes, the Greek System Does Encourage Rape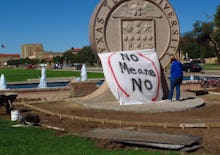 The news: After a stunning survey revealed that nearly 1 in 5 female University of Oregon students have been victim of an attempted or completed rape, the school is taking drastic action. A scathing recent review by the its own task force has pointed the finger at many institutional failures throughout the school and its administration, but one is particularly striking.
The review, conducted by Jennifer Freyd and titled "Twenty Students Per Week," has concluded that fraternities and sororities are disproportionately responsible for encouraging the school's high rate of sexual assault. It charges that the Greek system and its associated party culture is recklessly exposing students to danger and doing little to prevent rape. Essentially, Oregon may be one of the first major colleges to recognize that fraternities and sororities aren't just places where sexual assaults happen — they're the institutions that cause them in the first place.
The findings: The task force's findings are quite robust, and they use pretty pointed language to make their point:
We cannot ignore the fact that, despite the relatively small number of students directly involved in their activities, Athletics and Fraternity and Sorority Life (FSL) play disproportionately powerful roles in facilitating or tolerating conditions in which sexual violence occurs on campus. This observation is grounded in decades of research on campus sexual violence, review of the training materials made available to the President's Review Panel by Athletics, the walls of secrecy that surround these cultures, their activities, and their problems, and the number of high-profile cases of sexual violence in athletics programs and Greek life nationwide that exhibit many of the same problems we are experiencing at UO.
The report notes that "Research further suggests that Greek systems on college campuses around the country create dangerous situations for women," citing statistics concluding that fraternity men are much more likely than the general population to commit rape. Oregon's campus survey also concluded that women in the Greek system were 3.4 times as likely to have experienced an "attempted or completed rape."
The figures: The raw numbers from Freyd's work are indeed galling: 38% of women in Oregon's Greek system were estimated to be the victim of at least one attempted or completed rape, compared with just 15.3% of women outside it. Additionally, 26.3% of Greek men and 48.1% of Greek women had experienced some form of nonconsexual sexual contact, compared with 7.9% and 33.1%, respectively, among the larger student body. The task force report backs this these numbers with research concluding "it is reasonable to conclude that fraternities turn men into guys more likely to rape."
As a result, the committee demands that Oregon immediately end plans to increase the size of the university's Greek system, investigate when and where women in the Greek system are most at risk and form a sexual assault task force responsible for fraternities and sororities. In short, the blind eye afforded to Greek activities may soon be over at Oregon.
Other colleges have also moved to investigate high rates of sexual assault. A recent MIT survey found that 1 in 6 female students had been subjected to a sexual assault while attending, but just 5% had actually reported one.
This is troubling, to say the least. In fact, this is far from the only research to conclusively demonstrate links between Greek culture and sexual assault. The Guardian's Jessica Valenti, for example, summarizes:
These are not anomalies or bad apples: Numerous studies have found that men who join fraternities are three times more likely to rape, that women in sororities are 74% more likely to experience rape than other college women, and that 1 in 5 women will be sexually assaulted in four years away at school.
Despite the well-known link between fraternities and sororities and rape, fraternities in particular are often immune to campus authorities thanks to decades of what the Atlantic called the "increasingly bedeviling kind of interdependence" with colleges that comes with owning billions of dollars in student housing and access to protective alumni influence. Nationally, some 70 schools are suspected of improper handling of sexual assault cases. Along with athletics programs, the Greek system is a major contributor to this problem.
Coupled with Wesleyan University's recent order for fraternities to become coed in the next few years or get kicked out, Oregon's move might signal the end of an era for unaccountable and reckless Greek culture. But the road will be long, as recent moves to fight sexual assault on campus are still triggering serious backlash.