31 Fantastic Movies You Need to Watch Before the Year Ends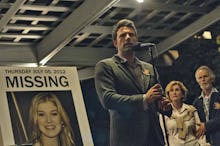 It's been a long year at the box office. From suspicious husbands to spandex-clad superheroes, the big screen is enjoying a fantastic range of stories. While some flicks have flopped, others are still rolling in positive reviews from critics and dough from moviegoers.
Whittling down the list of vital movies to watch at the end of the year is always a hefty task. With the rush of new films every weekend, the queue is always building. This has been a bumper year for blockbusters, indie hits and biopics. It's practically impossible to watch all the cinematic masterpieces of 2014, but these are 31 that you can't miss. 
ACTION
1. Edge of Tomorrow
Starring: Tom Cruise, Emily Blunt
What to expect: A lieutenant colonel (Cruise) dropped into combat who find himself in a time-loop. Initially, the battle is a total suicide mission. But every time he comes back, he returns with more skill and knowledge to defeat the enemy. 
Why you should watch: Cruise and Blunt are a dynamic duo who balance the humor and action of the movie well. The time-loop concept isn't new (made famous by Groundhog Day), but the movie's plot is strong enough to justify it. 
2. The Maze Runner
Starring: Dylan O'Brien, Kaya Scodelario, Will Poulter
What to expect: Teens trying to escape a maze that's constantly changing. Based off the young adult series with the same name, Thomas (O'Brien) and the others have no memories of their previous lives. Thomas might be new to the group, but he might also have the solution to getting out.
Why you should watch: The cast is studded with young Hollywood actors who could very well be the next wave of big actors. Also, it's better than 2014's other YA action adaptation, Divergent. 
3. John Wick
Starring: Keanu Reeves, Michael Nyqvist
What to expect: A retired hitman picking the job back up. Reeves plays the titular Wick, an assassin who left the business to take care of his wife. But when Russian gangsters choose him as their next target, unaware of Wick's deadly past profession, they learn the hard way that messing with an ex-hitman is not a good idea. 
Why you should watch: John Wick also signifies Reeves' return to the big leagues, after his past few films have been lackluster in contrast to his Matrix days. 
4. Guardians of the Galaxy
Starring: Chris Pratt, Zoe Saldana, Dave Bautista, Vin Diesel, Bradley Cooper, Lee Pace
What to expect: A team of criminal misfits, including a gun-happy raccoon and a talking tree, have to save the world from destruction. Marvel brings a ton of goofy laughs and kickass action scenes. 
Why you should watch: If you haven't seen it already, Guardians of the Galaxy is a little less dramatic and a bit more comical than the rest of the Marvel Cinematic Universe. Plus the ensemble cast, fronted by Parks and Recreation funnyman Pratt, makes for a cosmic combination. 
FANTASY
5. Snowpiercer
Starring: Chris Evans, Tilda Swinton, Song Kang-ho
What to expect: Passengers of a perpetually moving train that carries post-apocalyptic survivors plan to revolt. A class system has emerged on the train, with the disenfranchised in the back and the wealthy in the front. Those in the back decide it's time to fight back.
Why you should watch: It's refreshing to see Evans out of the Captain America suit, and Snowpiercer is an intense spectacle without being a flashy blockbuster.
6. The Hunger Games: Mockingjay – Part 1
Starring: Jennifer Lawrence, Josh Hutcherson, Liam Hemsworth
What to expect: Katniss Everdeen (Lawrence) returns to the screen after her escape from the third Quarter Quell. The new face of the Panem rebellion might be safe in District 13, but her fellow tribute Peeta (Hutcherson) is still held captive by President Snow.
Why you should watch: Mockingjay – Part 1 sets up the conclusion for the Hunger Games franchise with necessary development and plenty of action.
The Hunger Games: Mockingjay – Part 1 hits theaters Nov. 21.
7. How to Train Your Dragon 2
Starring: Jay Baruchel, Gerard Butler, America Ferrera 
What to expect: The world that charmed us all in How to Train Your Dragon is back, and this time the awkward teenage protagonists have all grown up a little. Dragon-tamer Hiccup and company have to deal with a woman named Valka who has taken dragon-rescuing into her own hands, as well as a madman called Drago on a mission for world conquest.
Why you should watch: All those warm, fuzzy feelings and heartfelt messages from the first feature are still there and not watered down like most sequels. The film is a perfect showcase of masterful animation and genuine emotion.
8. The Tale of Princess Kaguya
Starring: Chloë Grace Moretz, Darren Criss, Lucy Liu
What to expect: An animated saga of a tiny girl inside a magical bamboo stalk who rapidly grows into a young woman. The cause of her mystical origin is uncertain and bewilders everyone she meets, which doesn't stop her from needing to confront her destiny.
Why you should watch: It's this decade's Spirited Away (not least because both come from the great Studio Ghibli), a fanciful tale with a deep narrative.
9. The Hobbit: The Battle of the Five Armies
Starring: Martin Freeman, Ian McKellen, Orlando Bloom
What to expect: A conclusion to the Hobbit trilogy, and a lead-in to The Lord of the Rings. The epic final battle will decide the fate of Middle-earth, and it's jam-packed with dwarves, elves, orcs, humans, a dragon and of course, Bilbo Baggins.
Why you should watch: It's a fantastic ensemble of big-name actors (also including Benedict Cumberbatch, Stephen Fry and Evangeline Lilly), directed by Peter Jackson, living out one of the most beloved tales of all time.
The Hobbit: The Battle of the Five Armies hits theaters Dec. 17.
COMEDY
10. Dear White People
Starring: Tessa Thompson, Tyler James Williams
What to expect: A satire from Sundance that pokes fun at race relations in Hollywood, set on a college campus that has its own set of culture wars. The protagonists explore what it really means to be "black." 
Why you should watch: Because this movie will make you a better and smarter human being. Dear White People starts necessary conversations about race that have so far been missing in mainstream entertainment and media. 
11. Neighbors
Starring: Zac Efron, Seth Rogen, Rose Byrne, Dave Franco
What to expect: A feud between a young couple (Rogen and Byrne) and the fraternity house next door. The lovebirds are just trying to raise their baby, while the bros are just trying to throw ragers. 
Why you should watch: The humor isn't exactly the most intelligent, but its indecent and sex-charged jokes are enough to get a couch full of friends laughing. Also, people like Efron's abs. 
12. Chef
Starring: Jon Favreau, Robert Downey Jr., Sofía Vergara, Scarlett Johansson
What to expect: Chef Carl Casper (Favreau) wants to take the art of food back into his own hands, so he leaves behind his restaurant to drive a food truck, teaming up with his ex-wife (Vergara) and young son.
Why you should watch: With the help of a charming family dynamic, Chef portrays true passion and the journeys it can spark.
13. About Last Night
Starring: Kevin Hart, Michael Ealy, Regina Hall, Joy Bryant
What to expect: The hilarious dynamics between two new couples, everything from pillow talk to restaurant meals. 2014's version is a modern take on the 1986 comedy, this time with a black cast.
Why you should watch: Because this isn't a "black comedy," it's simply a comedy that hopefully will put a stop to categorizing "black" films as a genre.
14. Dumb and Dumber To
Starring: Jim Carrey, Jeff Daniels
What to expect: Best friends Harry Dunne (Daniels) and Lloyd Christmas (Carrey) are back to their antics, this time dumber than ever. Harry's in search of his long-lost daughter and Lloyd is in love with her (where's the bro code?). 
Why you should watch: It took 20 years for this sequel to happen, and while its unclear if the buddy comedy is going to sink or swim, audiences will get to see Carrey back on the slapstick scene. 
Dumb and Dumber To hits theaters Nov. 14. 
15. St. Vincent
Starring: Bill Murray, Melissa McCarthy, Chris O'Dowd, Naomi Watts
What to expect: Single mom Maggie (McCarthy) needs a babysitter for her 12-year-old son, so she enlists next-door drunken, gambling neighbor Vincent (Murray). Forget extracurricular activities, Vincent has planned fields trips to strip clubs and the racetrack for his charge.
Why you should watch: Casting believable child actors can always be difficult, but Jaeden Lieberher proves a natural with comedy icons Murray and McCarthy. 
16. G.B.F.
Starring: Michael J. Willett, Paul Iacono, Sasha Pieterse
What to expect: High schooler Tanner (Willett) gets unintentionally outed as the school's first gay and becomes the target GBF (gay best friend) for three prom queen hopefuls. At the same time, Tanner is trying to mend his friendship with still-closeted best friend Brent (Iacono).
Why you should watch: The teen comedy could have very well been the next Clueless or Mean Girls if the MPAA hadn't given it an R-rating (which Gawker argues is because of its gay characters), which made it inaccessible to younger audiences.
DRAMA
17. Laggies
Starring: Keira Knightley, Chloë Grace Moretz, Sam Rockwell
What to expect: Knightly stars as Megan, a 28-year-old who realizes she has no direction in life. After her high school boyfriend proposes, she freaks out and hides out at a teenager's (Moretz) house until she can figure out a game plan. 
Why you should watch: It's another one of those "aimless in your 20s" films, but this one balances that with Moretz's character, who's also trying to find herself at a totally different stage of her life.
18. Frank
Starring: Michael Fassbender, Domhnall Gleeson, Maggie Gyllenhaal
What to expect: A quirky musician named Frank (Fassbender) who wears a giant fake head he's never seen without. Jon (Gleeson) joins Frank's band and all together the group records an album while on retreat in a secluded cabin. 
Why you should watch: Frank is odd, there's no doubt about it. But it's the kind of odd that asks authentic questions, with a layer of darkness underneath. 
19. Happy Christmas
Starring: Anna Kendrick, Joe Swanberg, Lena Dunham
What to expect: Irresponsible younger sister Jenny (Kendrick) moves in with her brother Jeff (Swanberg) and his wife after a breakup. Jenny brings trouble and change to the household as she begins a relationship with a babysitter who also deals pot on the side. 
Why you should watch: Happy Christmas is a charming commentary on how quickly things can shift when everything seems so settled. Jenny might look like the only one going in different directions, but change is around the corner for everyone. 
20. The Grand Budapest Hotel
Starring: Ralph Fiennes, Bill Murray, Tilda Swinton 
What to expect: Wes Anderson's ornate style, telling the story of a memorable hotel concierge and lobby boy in between world wars. Gustave H. (Fiennes) has to prove his innocence after being framed for murder. 
Why you should watch: Anderson never disappoints with his visuals and the story is fresh and thoughtful, proving the director's craftsmanship.
21. Obvious Child
Starring: Jenny Slate, Jake Lacy, Gaby Hoffmann
What to expect: Donna (Slate), an aspiring comedian, gets an abortion after a one-night stand. The big decision is whether or not she's going to tell the actually stand-up guy who knocked her up. 
Why you should watch: It's a different take than the typical abortion plot, and Slate's character approaches the situation with sincerity and humor. 
22. Wild
Starring: Reese Witherspoon
What to expect: An ex-heroin addict goes on a journey of self-discovery and healing, hiking solo more than one thousand miles on the Pacific Crest Trail. On the way, she faces her demons and learns how to finally take them down. 
Why you should watch: Witherspoon's performance is at on the level of her Oscar-winning portrayal of June Carter Cash in Walk the Line. Her character is strong and complicated, but not in the conventional Hollywood way.
Wild hits theaters Dec. 5. 
23. Boyhood
Starring: Ellar Coltrane, Ethan Hawke, Patricia Arquette  
What to expect: A 12-year peek into the life of Mason (Coltrane) as he grows up over the decade-plus over which filming took place. Audiences watch him get bigger and older right before their eyes, which full-on hits viewers with the turbulence of childhood and adolescence. 
Why you should watch: Boyhood is an interesting project that captures intimacy through dedication to the main characters over the years. 
HISTORY
24. The Imitation Game
Starring: Benedict Cumberbatch, Keira Knightley 
What to expect: The story of Alan Turing (Cumberbatch), who solved the German Enigma code during World War II. The Imitation Game looks at both the science and the team behind the cracking, along with Turing's homosexuality, which eventually led to his prosecution. 
Why you should watch: Turing is a compelling historical figure. His work was vital during the war, but intolerance for his sexuality kept him from the happiness and recognition he deserved. 
The Imitation Game hits theaters Nov. 21.
25. Life Itself
Starring: Roger Ebert, Martin Scorsese 
What to expect: This documentary collaboration among Steve James, Martin Scorsese and Steven Zaillian tells the story of legendary film critic Roger Ebert. Based off Ebert's memoir, Life Itself is factual and personal.
Why you should watch: It's a perfect tribute to Ebert, a giant in the world of film and screen critique, while also showing what he was like outside the screening room.
26. Pride
Starring: Andrew Scott, Bill Nighy, George MacKay 
What to expect: U.K. gay activists in 1984 teaming up with miners on strike. Together, they realize that they have more power standing hand in hand than fighting for their own specific causes. Along the way, they all find laughs in common.
Why you should watch: It's an overlooked event that parallels current politics pretty well. At the same time, it's inspiring to see what the minority can do once people work together. 
27. The Theory of Everything
Starring: Eddie Redmayne, Felicity Jones
What to expect: It's both the backstory and love story of the world's smartest man, Stephen Hawking (Redmayne). He and fellow Cambridge student Jane (Jones) defy the odds and make unimaginable breakthroughs after Hawking's diagnosis of a motor neuron disease.
Why you should watch: Redmayne will likely be on the Oscar radar after depicting Hawking's physical transformation. The film will also probably leave you in tears, the kind that are heart-wrenching and cathartic at the same time. 
The Theory of Everything hits theaters Nov. 7.
THRILLER
28. A Most Wanted Man
Starring: Philip Seymour Hoffman, Rachel McAdams, Willem Dafoe
What to expect: German and U.S. security agencies take interest in a refugee from Chechnya who illegally enters Hamburg, Germany. The man attempts to claim his father's fortune, but the agencies are busy trying to figure out if he's a rightful heir or an extremist with alternative motives.
Why you should watch: Based off the espionage-thriller novel of the same name, A Most Wanted Man is a well thought-out story. It's also one of Hoffman's last movies. 
29. Under the Skin
Starring: Scarlett Johansson
What to expect: Scenes of a woman preying on men. Turns out she's actually an alien seductress making her way through Scotland. 
Why you should watch: It's a grisly, dark picture for Johansson, whom audiences are already used to seeing as the Black Widow, thanks to the Marvel empire. It's polarizing, so you'll have to see where you fit on the spectrum after watching the flick. 
30. Horns
Starring: Daniel Radcliffe, Juno Temple
What to expect: After being accused of the rape and murder of his girlfriend, Ig (Radcliffe) wakes up one morning with horns and a dark supernatural force around him. All the while, he's trying to figure out the identity of the person who actually killed his dead love.
Why you should watch: Another stellar performance from Radcliffe, whom audiences might always remember as Harry Potter, but who also proves that he can play more than just a young wizard.
Horns hits theaters Oct. 31. 
31. Gone Girl
Starring: Ben Affleck, Rosamund Pike
What to expect: The investigation of what really happened to Nick Dunne's (Affleck) wife. With all the lies and deception, is Dunne the murderer? Based off Gillian Flynn's bestseller. 
Why you should watch: Because everyone else is watching it. But at the end of the day, it's still a smart and elegantly twisted thriller.
Got plans this weekend? Cancel them. You'll be diving into this list of flicks for the rest of this year.