Nicki Minaj Just Made a Big Play for Queen of Hip-Hop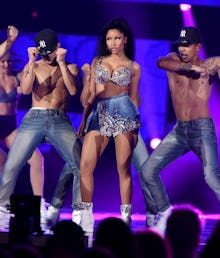 The neon Barbie Nicki Minaj who brought us "Starships" and "Super Bass" is dead. Early Tuesday, she released a new single titled "Only" that officially solidifies a new direction for her music. Nicki Minaj has gone back to her roots with a vengeance, and she is now a full-on rap queen.
"Only" is a perfect snapshot of hip-hop in 2014. It's got the hollow DJ Mustard-style beat that's all the rage right now. It's got guest verses from Lil Wayne and Drake and a hook from Chris Brown — all ingredients that guarantee a hit these days. And the whole thing has one message: Nicki Minaj is all about hip-hop.
That's a good thing, because hip-hop needs more strong female voices, whether or not they're explicitly 'feminist'. Minaj speaks directly to being confined to a narrow vision of what a female artist can be. In particular, she takes on the common stereotype that women have to suck up to male executives to make a break: "I never fucked Drake; I never fucked Wayne. All my life for fuck sake." It's an intriguing line, and it sets up a template; both Drake and Wayne start their verses by stating the same (though Wayne also raps the rather questionable, "Whoever is hittin' ain't hittin it right / Because she acts like she's needs dick in her life"). 
Minaj had one of the biggest musical moments of the summer with the release of "Anaconda," and she's only building momentum. She's standing in as a voice, feminist or not, that isn't usually heard in this music. And now she's made it clear that hip-hop had better be ready when The Pinkprint drops in December.