Bleachers Just Released the Ultimate Anti-Rockstar Video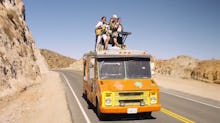 The music video for Bleachers' "Rollercoaster" looks familiar up to a point: Dorky guy sees hot girl, guy impresses girl with music, girl falls for guy. But few of those videos end with a guy getting beat up by a lady who, it turns out, didn't feel like being harassed.
Bleachers, the side project of fun. guitarist Jack Antonoff, has been on a hot streak since July when their debut album, Strange Desire, came out and immediately hit it big. As of recently, Antonoff has secured a whole new level of notoriety as a co-writer and producer on "Out of the Woods" off Taylor Swift's brand new album 1989. 
If the video is any indication, he's feeling good. As his band drives down a desert road, a beautiful blonde driving an old school convertible catches his eye. Antonoff decides to woo her with song and assembles his band on the roof of the van so he can serenade his mystery woman. But when the lead singer finally gets face to face with the girl, she opts to kick rather than kiss him.
We should expect no less from a rock star who also dates Lena Dunham. These are pop music's new gender dynamics at work. Artists like Nicki Minaj are flipping the script and proving that women are no longer love objects to be won. It isn't about the male rock star and his groupies anymore. Good riddance.