It's Time We Started Taking One Direction Seriously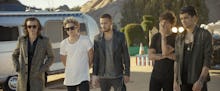 Last Friday, British boy band One Direction became a real band.
That was the day they released the video for "Steal My Girl," the new single off their upcoming album, FOUR, due to drop on Nov. 17. It was a smash hit. Many could attribute the video's success to the incredible popularity of the band (especially with young, computer-savvy girls), the hype surrounding their new album, or the quirkiness of the music video itself. But none of these is the real reason for its success.
"Steal My Girl" is actually a really good, catchy pop song — and the best part is, two of the 1D band members actually co-wrote it. Like some of the greatest boy band musicians before them — including The Beatles and Justin Timberlake — 1D is making a break for real artistic integrity.
The group has been on a hot streak pretty much since they formed on The X Factor in 2010, releasing their first megahit album Up All Night the next year. Immediately, they began breaking records — their first single, "What Makes You Beautiful," was the most pre-ordered single in Sony Music history. On Friday, they collected another accolade on the release of their new video for "Steal My Girl": It broke the Vevo record for the most-watched video across a 24-hour period, booting out Nicki Minaj's "Anaconda" from the top seat.
The records are starting to mean something different. Until recently, they have been just another musical act created by pop music savant Simon Cowell, an entity that has gotten by mostly on good looks and by singing mushy songs that some hit-makers designed for them. 
But with "Steal My Girl" and their other single, "Fireproof" (both written by Louis Tomlinson, Liam Payne and their four regular songwriters), the band is planting its flag in the music industry. These songs are undeniably good, and they have an actual character about them that seems unique to the band. "Steal My Girl" reimagines the anthemic quality of an '80s/'90s rock ballad — a cascading piano melody and some "na na na"s for good measure. "Fireproof" twangs with a groovy guitar reminiscent of '70s-era Fleetwood Mac. The group is starting to sound less in-your-face poppy and more rooted in classic sounds.
Critics will claim that they're still a boy band, that they still rely heavily on looks and super-fandom. But that claim also totally ignores one undeniable truth about pop music: There's nothing inherently wrong with being a boy band.
The Beatles were first and foremost a boy band, a group that innovated in the studio when they stopped playing live because the screams of their die-hard fans eclipsed their music. 
Even Paul McCartney admits it. "At the beginning of the Beatles – you've got to remember, we were a boy band – it was all really fan-oriented," he recently told the students at Rollins College. "It's not a bad thing, but after a while you felt like you wanted to move on."
When they did move on, they became the group that is now hailed as one of the most influential rock bands of all time. 
'NSYNC never even approached Beatles status, but they showed a similar inclination. They struggled in the beginning of their career to escape the shadow of the Backstreet Boys, but after the release of their third album, No Strings Attached, they made it clear that they weren't going to do so by taking their shirts off. According to a 2000 New York Times article by famed critic Jon Pareles, "'N Sync is after more than popularity. It has reached that inevitable career moment when, believe it or not, it hopes to be taken seriously for its artistic ambition."
The band never was, but its lead singer Justin Timberlake eventually would be. Now the singer has nine Grammy Awards and a tremendous amount of respect from the music world.
In the same article about 'NSYNC, Pareles points out that ultimately it's always about the music. 
"No matter how lucrative a fabricated pop product is," he writes, "rock's mythology insists that performers can't simply be mouthpieces for shadowy control-room authorities. Stars are supposed to mean what they sing, to be expressing themselves, not following orders." 
That's the stage One Direction is growing into so well. Even if you're still too distracted by their questionable facial hair to concentrate on their lyricism, it's at least worth it to know that One Direction is making an effort to build something real out of their incredible, X-Factor-fueled success — it's worth it to open your ears. That's the beauty of pop music, after all — it can always give its players the benefit of the doubt, in hopes that, one day, they'll use their fame to move entire generations.