NASA Rocket Explodes Shortly After Launch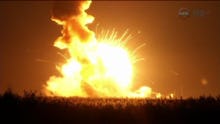 The unmanned Antares rocket exploded shortly after launch from the Wallops Flight Facility in Virginia on Tuesday evening.
"There was no indicated loss of life," NASA spokesman Jay Bolden told CNN. "There was significant property and vehicle damage. Mission control is trying to assess what went wrong."
The rocket was scheduled to launch from the Mid-Atlantic Regional Spaceport (MARS) on the Eastern Shore about 6:45 p.m. on Tursday, delivering a Cygnus cargo freighter belonging to Orbital Sciences Corp. into orbit for a rendezvous with the International Space Station (ISS).
NASA has been paying the Orbital Sciences and the California-based SpaceX company to keep the ISS supplied following the decommishing of the U.S. space shuttle program. This is the first disaster since the space agency outsourced resupply operations to private space companies.
This is a developing story. We will update this post with details as they become available.