We Thought Africa's Ebola Epidemic Was Improving. This Chart Shows Why We Were Wrong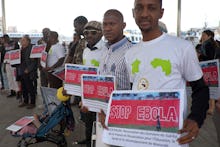 The news: There's been a string of good news about the ongoing Ebola epidemic in West Africa: Both Senegal and Nigeria have been officially declared Ebola-free, limiting the hot zone to Liberia, Sierra Leone and Guinea.
But that doesn't mean we're out of the woods. Tuesday, the Centers for Disease Control and Prevention (CDC) released it latest update on the West African Ebola outbreak, and things still look bad.
As of Oct. 22, there have been 9,911 official cases of Ebola in the region — an increase of 1,000 from the week before. Liberia is by far the worst hit, with 4,665 in the country alone:
Monrovia, the capital city of Liberia, has had the most new cases of Ebola in the entire region. Other cities with high incidences of new cases include Freetown, Sierra Leone, and Macenta, Guinea:
And when you look at the picture cumulatively, the border region between the three countries remains the area with the highest number of total Ebola cases:
We have a limited time to turn this epidemic around. Right now, West Africa is averaging around 1,000 new Ebola cases per week. But according to the World Health Organization (WHO), that number could jump as high as 10,000 per week very soon. The WHO estimates that we have less than 60 days before things spiral out of control and that the region needs about 5,000 more health care workers to stem the epidemic.
To do that, we need a serious attitude adjustment. While people might be freaking out at the prospect of an Ebola outbreak in America, it's important to keep in mind that the best way to keep the U.S. safe is to stop the epidemic at its source. That means more resources and volunteers and fewer nonsensical policies that disincentivize health care workers from fighting at the front lines.
This epidemic is far from over. And if we are to see an end to it, we have a very short time left to bring out the big guns.