Hulu Just Saved Saturday Morning Cartoons Forever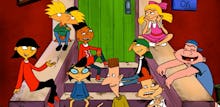 The news: Children of the '90s, rejoice: Your favorite childhood cartoons are now available at any time for your streaming pleasure.
Tuesday, streaming service Hulu announced it extended its deal with Viacom, adding a slew of new programming from Comedy Central, MTV, VH1, TVLand, Spike, BET, Logo and more to its library. In particular, Hulu Kids will get a big boost from Viacom subsidiary Nickelodeon, expanding the catalog to include some fan favorite '90s cartoons such as Hey Arnold!, Ren & Stimpy and Invader Zim.
And the increased offering is not limited to English versions of these shows: In the next couple of weeks, Hulu also plans to add Spanish versions of popular cartoons such as SpongeBob SquarePants and Teenage Mutant Ninja Turtles.
Why is this such a big deal? For years, media prognosticators have been sounding the death knell for Saturday morning cartoons. This American tradition has been slowly dying out, and earlier this month, the CW became the last network to pull the plug on its Saturday morning cartoon bloc, which included Dragon Ball Z Kai, Yu-Gi-Oh! and Digimon Fusion.
The demise of this beloved American practice is sad to behold, and Hulu's announcement reminds us of Americans' changing TV-viewing habits and why streaming services are a double-edged sword. They might keep your favorite shows at your fingertips, but they are also part of the reason why broadcasting traditions like Saturday morning cartoons have been rendered unnecessary. Why get up early and sit in front of your TV in PJs with a bowl of cereal when you can watch your favorite shows at any time in the car, at school or in your bed?
Hulu and similar services may have contributed to the cartoons' demise, but at least they're also saving these childhood memories from completely fading.