Surreal Photos of the Lava Flow Threatening to Destroy a Hawaii Town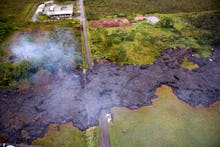 The news: A town in Hawaii has been threatened this week by a slow-moving but thoroughly menacing threat: a river of lava.
Tuesday, the lava flow claimed its first building in the residential neighborhood of Pahoa, and it's been steadily moving through the village ever since, threatening to incinerate more buildings and properties in its path.
On average, the lava has been traveling around 10 to 15 yards per hour; by Wednesday, it came within 280 yards of the main street of Pahoa, a town with 800 residents. The molten rock is estimated to be hotter than 1,650 degrees Fahrenheit.
This is far from the region's first brush with lava from the Kilauea volcano, but frustratingly, there is little that can be done to forecast the flow's unpredictable path. Around 50 to 60 homes and businesses in Pahoa are expected to be hit.
In the meantime, the lava's slow and steady journey has transformed the surrounding landscape in jaw-dropping ways. Check out some of the photos below: