Jon Stewart Rips Democrats' Desperate Attempts to Avoid Obama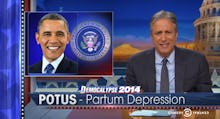 On his second night hosting the Daily Show from Austin, Texas, Jon Stewart took a look back at the odd and often embarrassing ways Democrats have sought to distance themselves from President Obama during the fall campaign.
First up Tuesday night was Alison Lundergan Grimes, the Senate candidate from Kentucky, refusing to say whether or not she voted for the president. Stewart said the clip "looked like a deposition from a murder trial."
And then there was Arkansas' endangered Sen. Mark Pryor, who, when asked by MSNBC if he thought "the Obama administration has done an appropriate job handling the Ebola crisis," so eloquently replied: "Ummm, uhhh, I would say ... It's hard to know ... because."
Cue Stewart, who suggested Pryor was acting like the reporter "found your porn."
Watch the whole clip right here:
Source: The Daily Show
This goes on for a few more rounds, with Alaska's incumbent Sen. Mark Begich and Obama's press secretary, Josh Earnest, roasted for their less-than-glowing reactions to questions about the face of the national Democratic party.
Stewart jokes, but he makes a strong point about (poor) political tactics. There is, of course, the art of keeping one's distance from an unpopular ally, and then there is what we've seen from Democrats on the campaign trail. Candidates like Lundergan Grimes and Pryor brought more negative attention to the "issue" with their bumbling and evasive nonanswers than if they had just told the truth, whatever it might be. Their attempts to avoid an unpopular president likely won't be enough. 
This post has been updated.