FKA twigs' New Video Proves She's Much More Than a "Video Girl"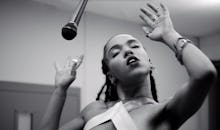 FKA twigs just released a bold new video and with it a reminder that she is the most inventive woman in R&B.
The video is a testament to how far she's come. Before FKA twigs became our most promising progressive R&B artist, she was a backup dancer in pop music videos for the likes of Ed Sheeran, Jessie J and Taio Cruz. For awhile, she was always recognized as "that girl from the video" and she struggled to make a name for herself. 
"When I got signed, I stopped dancing — I'd given up that part of my life," twigs said, discussing the origins of "Video Girl" with Pitchfork. "I would go out, and somebody would be like, 'Oh, I recognize you!' I'd hope it was because they'd heard my music, but they'd say, 'Are you that girl from the Jessie J video?' I'd always say 'no,' and they'd be like, 'You're lying!'"
But there's no confusing her now. The video fits FKA twigs' musical style perfectly. It's darker, more sensual and more challenging than most other R&B right now. The strength of her most recent LP1 has led her to work with some of the biggest names around right now, including Flying Lotus and T-Pain, who were both entranced by her record. 
Hopefully, it will be enough to help her break with her past so she can fully revolutionize this genre.