One Tweet Provides Perfect Reaction to Female NBA Coach's First Game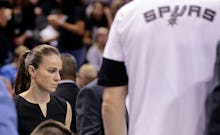 The San Antonio Spurs-Dallas Mavericks game on Tuesday was one of three games that marked the beginning of the NBA's season, but it also marked a new and monumental era for women in the NBA.
In the Spurs' 101-100 victory, former WNBA player, Becky Hammon, served in her first regular season game as an assistant coach under Spurs' legendary head coach Greg Popovich. Earlier this year, Hammon made headlines by becoming the first paid female coach in NBA regular season history.
ESPNW contributor, Sarah Spain, took to Twitter to express how excited she was about seeing Hammon's presence on the Spurs' bench.
Spain made two important points here: seeing Hammon perform and excel in the male-dominated realm of NBA coaching is an extremely "awesome" thing to see, but it is something that will also take some "getting used to" in the minds of NBA fans.
When Hammon was given the title as an assistant coach it was obviously a groundbreaking moment in women's sports, but her being on the benches for the first regular season game of the season is a realization of it.
Hammon has opened the door and is paving the way for more women to serve as coaches in the near future. She is using her intelligence and experiences from her playing days, in her new role, and she is off to a great start for the defending NBA Champions.
"She talks the game, she understands the game. So for all those reasons you really know she's got that same sort of, you know, Avery Johnson, Steve Kerr, Budenholzer type thing" Spurs head coach Greg Popovich said in the interview above with the WNBA.
For Hammon to get comparisons to three individuals with NBA head coaching experience, from a five-time champion really shows how well-respected she is.
So basketball fans get used to seeing Hammon, and hopefully more women, serving coaching roles in the NBA in the near future.