22 Horror Movies You Can Watch on Netflix Right Now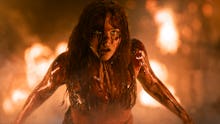 Halloween is this week, and while you might be too old for trick-or-treating, you're probably old enough to watch an R-rated movie. Thankfully, Netflix is stacked with tons of horror flicks ready to scare the jeepers out of you.
From classics to modern-day, over-the-top campy to grisly authentic, and jolting to heart-attack-inducing, check out these 22 scary movies that are just a click (or a remote button) away.
1. The Blair Witch Project
Watch this if you love: camping, documentaries and reality television confessionals
2. Carrie 
Watch this if you love: psychic abilities, vicious teenagers and high school dances
3. You're Next
Watch this if you love: animal masks, dinner parties and hunting
4. Insidious: Chapter 2
Watch this if you love: childhood secrets, haunted houses and sequels
5. The Cabin in the Woods
Watch this if you love: college kids, Joss Whedon and technology from hell
6. Dead Silence
Watch this if you love: old ladies, talking dolls and hometown returns
7. The Craft
Watch this if you love: teenage witches, cliques and bad Catholic school girls
8. Scream
Watch this if you love: late-night phone calls, retro Drew Barrymore and meta storylines
9. House at the End of the Street
Watch this if you love: new neighbors, secrets from cute boys and dangerous children
10. Sharknado
Watch this if you love: projectile carnivores, campy special effects and effective uses of chainsaws
11. Haunter
Watch this if you love: haunted teenagers, conversations with the dead and grown-up Abigail Breslin
12. Rosemary's Baby
Watch this if you love: pregnant women, human sacrifices and horror classics
13. Anaconda
Watch this if you love: jungle excursions, scientists in danger and Jenny from the block
14. World War Z
Watch this if you love: flashy scenes of destruction, zombie apocalypses and Brad Pitt
15. Children of the Corn
Watch this if you love: unsuspecting travelers, Lord of the Rings and Nebraska
16. The Addams Family
Watch this if you love: ghoulish estates, carnival morbidness and sinisterly comical children 
17. Fright Night
Watch this if you love: hot neighbors, evil-fighting actors and buddy comedies
18. Candyman
Watch this if you love: your reflection, modern oral folklore and playing Bloody Mary
19. Ju-on: The Grudge
Watch this if you love: murderous spirits, ghostly children and movie originals
20. The Amityville Haunting
Watch this if you love: home videos, imaginary friends and dumb people who move into an infamously haunted house
21. Darkness Falls
Watch this if you love: Buffy the Vampire Slayer, dental hygiene and the tooth fairy
22. The Nightmare Before Christmas
Watch this if you love: animation, the holidays and being able to sleep at night because every other movie on this list is probably going to give you nightmares