New Report Shows the Red Cross Is Just One Giant Mess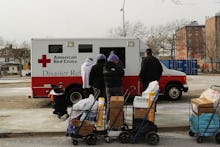 The news: The Red Cross' problems just keep growing. Investigative journalists at ProPublica and NPR released an extensive report Wednesday accusing Red Cross management of massive incompetence and mislaid priorities following Hurricane Sandy in 2012. Among other findings, the report charges that the charitable organization was so obsessed with public relations that it seriously compromised the charity's relief efforts.
Like what? The full report is available online, but here's a summary of the biggest accusations:
- Former Red Cross emergency manager Richard Rieckenberg alleges that during the "peak of the post-storm crisis" on Nov. 2, 2012, 40% of emergency response vehicles, 15 total, were sent to pull PR duty for press conferences held by senior leadership. The Red Cross says they were handing out requested supplies.
- After Hurricane Sandy hit, it took weeks for the Red Cross to deliver basic supplies like food, water and shelter to places like New Jersey and the Rockaways.
- Rieckenberg estimates that as much one-third of the food supplies were wasted. In one case, around 35,000 Danishes, costing $7 apiece, were wasted.
- The Red Cross ordered 200,000 extra meals a day to produce the illusion of high productivity. Most went to waste.
- One of the organization's most senior disaster responders was dismissed after technical problems cancelled a planned donor tour of a mobile food truck. The responder was later reinstated.
- Inadequate planning led to sex offenders being housed with children, and internal Red Cross documents made reference to "unrelated adults showering with children."
- Volunteers from other states were poorly coordinated; without GPS devices, Red Cross workers often got lost in New York. In one case, a truck of pork lunches was delivered to a Jewish retirement center.
The joint investigation indicates these problems extend well beyond Hurricane Sandy. In 2012, even after it was clear Hurricane Isaac would not hit Florida's west coast, the Red Cross neglected to relocate 460 volunteers to areas where they could have been more helpful. Red Cross workers suspected the reason was to impress the ongoing Republican National Convention in Tampa. Following Isaac's landfall, 80 Red Cross trucks in Mississippi were ordered to drive around and look busy.
Why you should care: The newest report paints an incredibly unflattering picture of the Red Cross, which increasingly looks like an organization consistently in crisis and unable to respond effectively to disasters. In May 2013, the New York Daily News reported that the Red Cross was still sitting on $100 million in disaster relief, seven months after Sandy. 
The Wire noted that CEOs left the Red Cross after funding controversies following the Sept. 11 terrorist attacks and Hurricane Katrina. This also isn't the first time the charity has come under scrutiny from ProPublica — it previously refused to discuss how it spent $300 million in Sandy relief funds, using "trade secret" arguments more akin to a for-profit company than a charity.
That's a shame, because the Red Cross really is one of the most visible faces of charity around the country, and millions of people need their help every year. If you can't trust the Red Cross to take care of you after a major catastrophe, who can you trust?