The Most Badass Female Musicians of All Time Made a PSA Encouraging Women to Vote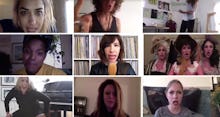 Legendary rocker Joan Jett does an incredible impression of a straight-laced politician at the start of an amazing new PSA encouraging women to vote in the midterm election. 
"Hi, I'm Joan Jett and I approve this message," she says, barely containing her smile. By the end of the video, it's hard not to smile.
As Jett's song "Bad Reputation" kicks in, scores of powerful and inspiring women who have made lasting careers for themselves in the arts hammer home the song's message. Carrie Brownstein of Portlandia and Sleater-Kinney, Sleigh Bells' Alexis Krauss, pop star Sia, the Fiery Furnaces' Eleanor Friedberger, classic singer Lesley Gore, Rookie founder Tavi Gevinson and Hole's Melissa Auf der Maur all make an appearance. They lip sync along with Jett's anthem, motivating female voters for next week's midterm elections so they can take back control over their bodies and paychecks.
But the PSA reminds us of just how far we have to go with a series of chilling facts. 
One of the first slides reads, "In 2013, there were more laws passed to limit women's rights than the entire previous past decade" — and it's exactly right. It's clearly a partisan issue, because "100% of Senate Republicans voted against the Paycheck Fairness Act." This, then, is an active civil-rights battle, and one women can influence.
Next week is the perfect opportunity to turn the tide. Midterm elections have notoriously low voter turnout, but important decisions are still on the ballot, and women can determine them. A lot of the laws limiting women's rights in 2013 and this year were passed at the state level. The next few years could be huge for women in politics, but only if women get excited, get mad and get active. As the video says, "We are not a voting bloc. We are the majority." It's time the government treated them as such.