The Victims' Mothers: Powerful Work of Art Illustrates the Side of Violence We Rarely See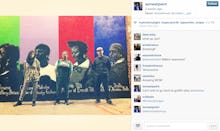 Painter Sophia Dawson has partnered with the Ideal Glass art collective and a team of assistants to produce "Every Mother's Son," a powerful tribute to black and Latino women who have lost their sons to racial violence in the U.S.
Colorlines reports that the mural, located at 22 E. Second St. in New York City, honors seven remarkable figures — Kadiatou Diallo (mother of Amadou Diallo), Mamie Till (mother of Emmett Till), Constance Malcolm (mother of Ramarley Graham), Margarita Rosario (mother of Anthony Rosario), Gwen Carr (mother of Eric Garner), Lesley McSpadden (mother of Michael Brown) and Iris Baez (mother of Anthony Baez) — all of whom have endured some of the most devastating losses imaginable, then turned around and became leaders in the fight for justice.
In 1998, four years after her son Anthony was choked to death by New York City police, Iris Baez founded the Anthony Baez Community and Parents Against Police Brutality Foundation, a nonprofit dedicated to supporting and finding legal recourse for families "confronted with police violence," according to PBS. Malcolm, McSpadden and the others have fought passionately to gain justice for victims, speaking at countless rallies and ensuring nationwide mobilization around racial violence issues.
Together, the portraits are a heartbreaking reminder of the human toll such tragedies take on community and nation. "I want to highlight the significance of these figures and the relevance of their struggle today," Dawson writes. "They have been intentionally excluded from mainstream American history, and their stories must not be forgotten."
Background: The piece is especially timely after this past summer. Between July 17 and Aug. 14 alone, at least five unarmed black men were killed by the police, including John Crawford III, who was shot to death at a Wal-Mart in Beaver Creek, Ohio, while holding a toy gun, and Brown, whose killing in Ferguson, Missouri, launched nationwide protests and ongoing campaigns for law enforcement reform.
In each case, efforts to criminalize the deceased were met with popular indignation. The #IfTheyGunnedMeDown hashtag, for example, was a prime illustration of how the media can collude with law enforcement to promote stereotypical narratives of black criminality.
What for? The police agenda clearly benefits from such biases, which is why the presence of the victims' mothers is so vitally important for combating them.
Women like the seven portrayed in "Every Mother's Son" remind us that these young men and their families are more than just tragic symbols of American racism, or bodies onto which collective anxieties and politics can be projected. They are human beings, and their struggle is, above all else, one centered on family and the pain that accompanies losing a loved one forever.
In fact: One of the more profound moments from the aftermath of Mike Brown's killing was when his mother, Lesley McSpadden, received a public message from Sybrina Fulton, the mother of Trayvon Martin, who was murdered by George Zimmerman in Sanford, Florida, in February 2013.
"I wish I could say that it will be all right on a certain or specific day, but I can't," Fulton wrote. "But know this: Neither of [our sons'] lives shall be in vain. The galvanizations of our communities must be continued beyond the tragedies. While we fight injustice, we will also hold ourselves to an appropriate level of intelligent advocacy. If they refuse to hear us, we will make them feel us."
It's important that we continue to recognize the families of those victimized by racial violence and police brutality — whether the victims are black, Latino, male, female or otherwise. With this in mind, "Every Mother's Son" stands as a powerful and fitting tribute to a group of women who've responded courageously to their sons' violent deaths, and emerged as vital figures in the battle for change.
h/t Colorlines