The 10 Best Reactions to the NCAA's Insane Punishment of Todd Gurley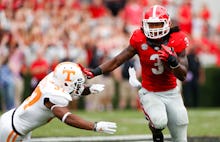 If you thought the University of Georgia's punishment of star running back Todd Gurley in the wake of alleged NCAA violations was too harsh, the NCAA itself has decided to up the ante. 
The association has suspended Gurley for two more games after he admitted to receiving compensation for signing memorabilia, which included mini-helmets, jerseys and photos. Along with the extended suspension, Gurley will have to donate a portion of the $1,000 he earned to a charity of his choice and perform 40 hours of community service.
Many thought the punishment was excessive, and that the community service mandate sounded judicial. People took to Twitter to express their thoughts:
Under the current system, the NCAA is the judge, jury and executioner, even though their methods of discipline are hazy and arbitrary.
Others offered snarky suggestions on how Gurley should spend his 40 hours of community service:
This is especially true when it comes to dealing with Florida State football players:
Those classes would still be more legitimate than they were for 18 years.
Vanderbilt University has the worst record in the SEC conference this season. They could use Gurley's help.
College players may not receive extra compensation for their likeness, yet college coaches can have their houses completely paid for by boosters.
When suspensions like these are dished out, discussions will continue as to why universities and the NCAA can benefit financially from players' likenesses, but not the individuals themselves.
Despite this latest "scandal," Gurley's draft stock remains unaffected, according to experts. He has demonstrated that he is one of the best running backs in college football, and some believe he should not let the University of Georgia and the NCAA continue to skim from his hard work and talent.
Some, of course, believe he should turn his back on the NCAA altogether: