An African Country's President Wants to Extend His Rule. His Citizens Have a Better Idea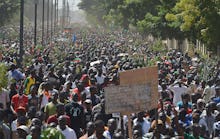 The news: When Burkina Faso President Blaise Compaore announced this week an initiative to extend his 27-year rule over the West African nation, his citizens decided they had had enough.
Tens of thousands of protesters poured into the streets of Burkina Faso's capital of Ouagadougou to demand that Compaore stop tampering with the country's constitution. Police used water cannons and fired tear gas to combat the mass demonstrations.
"The people have decided to start a general popular resistance," Zephirin Diabre, head of the opposition delegation, told the crowd of demonstrators, according to Al-Jazeera. "The first grievance is to get the withdrawal, pure and simple, of this legal project."
Protesters marched through the heart of Ouagadougou chanting "Step aside!" and "Don't touch Article 37." Some even carried banners comparing Compaore to the Ebola virus outbreak, which has killed more than 5,000 people.
"We must disinfect ourselves," one banner read.
Background: The protests come on the heels of political upheavals across sub-Saharan Africa, some blatant efforts to extend term limits for the purpose of staying in power. Despite the threat of arrests and violence from police forces, protesters continued toward the National Assembly, where leaders will debate the law Thursday.
The country, a former colonial outpost of France, has been used as a base for French Special Forces operating across West Africa. France urged Compaore to abide by an African Union charter barring leaders from changing the law to try to stay in power.
The United States was also "concerned by the spirit and intent" behind the draft bill.
"We urge all involved, including Burkina Faso's security forces, to adhere to non-violence, and to debate this issue in a peaceful and inclusive manner," State Department spokeswoman Jen Psaki said in a statement, according to Agence France-Presse.
Why it matters: In the last 20 years, leaders from 11 countries have tried to amend their constitutions. Seven succeeded: Burkina Faso, Chad, Gabon, Guinea, Namibia Togo and Uganda. Three failed: Malawi, Nigeria and Zambia.
It is important to note, writes Washington Post's regional expert Ken Opalo, that in the three failed attempts, it was the legislatures that rejected amendments to the constitution. But pressure from the masses could help turn the tide against authoritarian rule when they come knocking on the legislatures' door.
"It is unfortunate that in the present age of global political turmoil," Opalo wrote, "the world will most likely look the other way and let these leaders continue to entrench their rule in the name of political stability."