12 Photos Show How the "Mattress Girl" Campus Protest Has Become a National Movement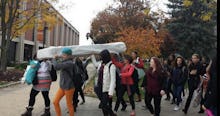 No, the revolution will not be televised. Thanks to the brave actions of Emma Sulkowicz, aka "mattress girl," it's happening right now on the leafy quads of college campuses across the country.
Sulkowicz, the Columbia University student who has vowed to carry her mattress around campus so long as her rapist remains at the school, has started a much-needed movement surrounding sexual assault college campuses in the U.S. 
Shortly after she began toting the mattress around as part of her senior thesis project, a group of students calling themselves Carry That Weight Together began helping her haul it. Since then, the group's efforts have expanded beyond Columbia's campus and culminated Wednesday in a national day of action in support of Sulkowicz and survivors of campus sexual assault everywhere.
More than 70 colleges and universities signed on to host "collective carries," and students documented their protests on social media using the hashtag #carrythatweight.
These heartfelt public displays of solidarity are an important step in shifting the way rape survivors are treated on campus. Sulkowicz, for example, had to recount the gruesome details of her rape at the university's disciplinary hearing. She even had to draw a diagram detailing how anal rape works, according to Al Jazeera America. Columbia not only found her rapist not responsible, but also allowed him to remain on campus. 
Activists have turned Sulkowicz's struggle into ammunition for a much-needed national campaign. Columbia student Zoe Ridolfi-Starr, who helped organize the collective, believes these protests will have a long-lasting impact. "I am optimistic. I think we certainly have a long way to go, but the more courageous survivors and smart organizers keep carving out space and forcing people to confront this, I think the more we'll be making progress," she told ThinkProgress.
The issue of sexual assault on campuses has rightfully gained media attention in recent months. Numerous Title IX complaints prompted a federal investigation of 55 colleges and universities, and the White House Task Force to Protect Students from Sexual Assault was created. And last month, President Obama and Vice President Biden launched "It's on Us," a sexual-assault prevention campaign targeting colleges and emphasizing men's responsibility to prevent rape. 
But such efforts run the risk of remaining futile unless university administrators begin taking sexual assault seriously. Rather than remaining fixated on their school's reputations, they should internalize the powerful messages these student activists are making and effect meaningful change.