The Man Behind the First True Chinese Rap Album Is Coming to America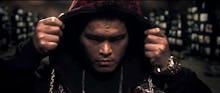 Last week, hip-hop met its future in the dim light of the New York City music venue Terminal 5 — Dwagie, the most famous Taiwanese rapper, had finally come to America. For a decade, he's been the most politically engaged and thoughtful rapper in Taiwan — the first rapper to make an album entirely in Chinese and the only rapper in the history of hip-hop to collaborate with the Dalai Lama — but nearly no one in America has ever heard of him. All that is changing.
Save for the flat brim hat he sported at his American show, everything about Dwagie defies hip-hop convention. He rapped entirely in Chinese, a notoriously difficult language to fit to rap's rhythms. But Dwagie is as forward thinking as it gets in hip-hop, and his U.S. debut blew audiences away. Now that he's here, he's set to utilize his fresh perspectives to open up the hip-hop culture in some big ways.
Dwagie is conscious rap at its most fully realized, a meteor from well outside the rap scene that could well remind American rap of what it's meant to be doing in our country. His collaboration with the Dalai Lama, "People," is a perfect example of his style. In his verses, Dwagie raps about all the ways humans suffer across the world: "We spend trillions on arms races, piling up rockets and planes, but are without resources to help the poor children get education."
At the end of the song's second verse, the Dalai Lama offers an answer: "There is no other alternative. This is not a question." 
This is the kind of thing you don't hear too often in rap: a modern variation of traditional Buddhist/Hindu principle that one should not focus on the final goal or reward, but on the process involved in getting there: "You should carry out work and should not think whether that research materialized within our lifetime or not. We must make effort, make some contribution, and start beginning." It's one of the most fascinating and thought-provoking outros to a hip-hop track ever put on wax.
It took years for Dwagie to get an audience with the Dalai Lama and create "People." But when it finally came together, fans realized his dedication to creating change through his music. And his activism spreads across many issues — everything from the need for an independent Taiwan to the moral conundrum involved in trying to curb the suffering of animals.
For more than a decade, Dwagie has been nearly invisible to a Western audience. But his CMJ show and the press that came with it is just a sign that he's finally breaking through in the U.S. — his enlightened raps have already caught the ears of some big names, most notably Nas. For Dwagie's third album, released earlier this year, the two cut "Refuse to Listen." The track is East-West musical fusion at its finest. As blasphemous as it sounds, Dwagie may have the upper hand on the Queensbridge legend on that second verse.
Americans often get so caught up on our pre-eminence as creators of hip-hop culture that we sometimes forget that the art form has become a global movement. There are MCs abroad that are closer to the hip-hop ideal than most American rappers. Dwagie is one of the brightest examples. He still uses his mic to stand for something.
"If you can read my lyrics, they're not only about love or heartbroken, my songs are [about] social justice, human rights. I want my listeners to make this world a better place," he told the Village Voice recently. Dwagie's lyrical concepts are on point, his music is fire and his causes are admirable. 
American hip-hop can learn a lot from Dwagie — if it takes the time to listen.