After Decades of Violence, Mexicans Are Taking a Powerful Stand Against Corruption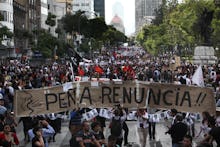 The news: Last month, 43 student teachers went missing in the small town of Iguala in the state of Guerrero, Mexico. But what began as a story about a local tragedy has morphed into a national outcry over corruption and narcoterrorism — and one of the biggest protests that Mexico has seen in decades. 
Tens of thousands have taken to the streets throughout the country, with tensions flaring as more and more news about the students' disappearance has come out. On Wednesday alone, 50,000 people marched through Mexico City and rioted in the city of Chilpancingo, the capital of Guerrero, setting fire to government buildings and ransacking supermarkets and shopping centers.
What are the protests about? Investigators say that the students were arrested on Sept. 26 after staging a protest, with three being killed on the scene along with three passers-by. 
María de los Ángeles Pineda, the wife of the mayor of Iguala, allegedly ordered police action because she was concerned that the protest would interfere with her speaking event; the couple has been on the run since the news came out. It is now believed that the students were then handed over to a local gang to be beaten and executed.
But it's a much bigger picture than just this one incident. According to reports, the mayor of Iguala enjoyed cozy relations with the local gang, which allegedly paid him hush money from its opium business. Already, 36 police officers and four gang members have been arrested in relation to the Iguala kidnappings, but the conspiracy is expected to extend further than that.
"Warriors United has sewn a web of complicity with several mayors and above all with security officials," said Federal Attorney General Jesus Murillo on Wednesday, referring to the gang likely behind the kidnappings. "In Iguala, the complicity was between the authorities, the local police and the Warriors United."
And to the protesters, the outcry is about more than just this latest crime. This nexus of government corruption and narcoterrorism has become all too familiar to the weary public. Since the students went missing, 19 different mass graves have been uncovered in the region. More than 26,000 people remain missing throughout Mexico, and the drug war is estimated to have claimed 70,000 lives, despite the government's insistence that it is cracking down on cartel activity.
That's the truly terrifying thing about this story: not that a mayor and his wife could be responsible for the deaths of student demonstrators, but that such disregard for the law and the country's citizens is not inconceivable in Mexico right now. Arresting a few corrupt officials or random gang members isn't going to do much if the country as a whole doesn't examine the toxic climate that allows such corruption to continue. Protesters are taking the first, crucial steps to put pressure on this issue.