Four Places Where the Marijuana Revolution Could Be Coming Next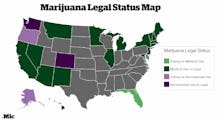 Chris Walker/Mic
One issue gracing the ballot in a number of states this year has marijuana advocates and foes of the war on drugs on the edge of their seats: marijuana legalization.
In 2012, Washington and Colorado became the first two states to pass legislation allowing people to consume pot recreationally. Now advocates are hoping they'll be able to pass the baton to Oregon, Alaska and Washington, D.C., where ballot measures legalizing recreational marijuana will be put to voters on Election Day. In Florida, voters could make the state the first in the South to legalize medical marijuana. 
Drug policy experts consider this next round of ballot measures a crucial moment in determining the pace of the marijuana legalization movement across the country for years to come. Weed very well may be the next gay marriage. Whether you're a stoner or just in favor of a more rational public health culture, this is a big moment. Here's a breakdown of what's happening in each state and the District of Columbia:
Oregon
The Oregon Legalized Marijuana Initiative, Measure 91, would legalize recreational marijuana, allowing adults 21 and over to possess up to 8 ounces of marijuana and up to four plants. It would tax marijuana at $35 an ounce.
Oregon was the first state in the country to decriminalize marijuana in 1973, and it was legalized for medical use in 1998, but it lost its pioneer status when voters rejected an initiative to legalize in 2012. The state is a focal point for the legalization movement, and its proximity to Washington is expected to give it a bit of a boost. Last week, Oregon Sen. Jeff Merkley became the first U.S. senator to support making marijuana legal in his state, saying he would cast a vote in favor of the measure.
Polling shows Oregonians supporting and opposing legalization are so tightly matched that Election Day is a true toss-up. One poll by the Oregonian and KGW earlier in the week found 44% supportive, 46% opposed and 9% undecided or unwilling to say, with the difference between supporters and opponents within the poll's margin of error. That's a decline in support compared to a poll earlier in the month conducted by Oregon Public Broadcasting and Fox 12, which gauged support to be 52% and opposition 41%.
Alaska 
The Alaska Marijuana Legalization, Ballot Measure 2 would allow people 21 and older to possess up to 1 ounce of marijuana and up to six plants. It would establish a $50 an ounce tax.
If the ballot measure passes, it will clarify an unusually ambiguous relationship with the legal status of the plant. Not surprisingly for a state sparsely populated by people who take pride in looking after themselves, in 1975 the Alaska Supreme Court ruled that small amounts of marijuana could be kept in homes on privacy grounds. Medical use was legalized in 1998. But Ballot Measure 2 will allow marijuana to be freely consumed, sold and taxed.    
Alaskans are sharply divided over legalization, and polling in recent months hasn't consistently pointed to an outcome in favor or against legalization. Alaska Dispatch News analyzed two polls with conflicting estimations of the likelihood of the measure passing and found that the wording of the questions could explain why one finds approval to have a narrow majority of support in one and a narrow minority in the other. In other words, it's a tight race.
Washington, D.C.
Washington, D.C.'s Legalization of Home Cultivation and Possession of Minimal Amounts of Marijuana for Personal Use Act of 2014, or Initiative 71, would legalize possession of up to 2 ounces of marijuana and up to six plants for cultivation for people 21 and over. Unlike in Oregon and Alaska, this measure stops short of creating a legal foundation for selling and taxing marijuana, but the D.C. Council is considering a bill that would allow it. 
D.C. has already decriminalized marijuana, and it can be used medically, but questions remain as to how the interplay of local and federal law on pot will play out on regulated recreational marijuana in the district. Ultimately Congress has final say on the matter, and in the past it has made passing marijuana-related initiatives difficult. And unlike with states thousands of miles from the capital, the White House and the Department of Justice may not be able to afford the laissez-faire stance on conflict between federal and state law that they've been able to manage so far.
The odds are good for supporters of legalization in the nation's capital. For most of the year, a clear majority has supported the measure.
Florida
The Florida Right to Medical Marijuana Initiative, Amendment 2, would legalize medical marijuana for the treatment of serious medical conditions at the discretion of a health professional.
While Florida is the only state on this list legalizing for medical purposes, it's still a significant event, because it's a national political battleground and no other states in the South allow marijuana for medical use.
Amendment 2 needs a 60% supermajority to become a law, which seriously tilts the odds against an issue with an aura of controversy. Many polls earlier in the year suggested that well over 60% of Floridians supported the measure, but in recent weeks things are not looking so good, with at least two polls showing support hovering around 50%. Observers say that the $3.2 million campaign to smear the amendment has paid dividends, and what once looked like a sure victory for legalization supporters is now in jeopardy.
This isn't just for potheads: It's important to remember that the movement for legalizing marijuana means far more than just facilitating the ease with which enthusiasts can light up around the country. It's part of the growing consensus that the war on drugs that began under Nixon has been a fiscal and moral catastrophe. As it winds down, there are glimmers of hope for ending the related problem of mass arrests and incarceration for drug-related offenses, perhaps the biggest hidden problem the black community has faced in the last quarter century.