T-Pain Without Auto-Tune Is Even Better Than T-Pain With Auto-Tune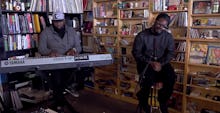 T-Pain has been getting the short end of the stick for most of his career. The man singlehandedly pioneered the use of Auto-Tune, a program that quickly became the punchline for the joke that was mid-2000s pop music. Many assumed T-Pain used the 'tune as much as he did because he couldn't sing or write. But that couldn't be further from the truth. The man just sang without autotune as part of NPR's "Tiny Desk" series, and proved that he has some serious musical talent.
Leaving the auto-tune at home, T-Pain's club bangers became sweet, melodic masterpieces. It turns out he's been writing beautiful odes to Patron all this time. His vocal runs are divine, and his songwriting is impeccable. Numerous musicians that have worked with him have already commented on how impressive his musical abilities are — FKA twigs and Michael Jackson being two of the most noteworthy.
Earlier this year, he talked with HipHopDX about why auto-tune has such a bad rap, and why he's been able to make a name for himself despite the stigma. It's a pretty entertaining rant, edging close to a Yeezy-level boast in all the best ways.
"Once people find out that Auto-Tune was a pitch correction software they felt like, 'Oh, so you just can't sing? So I can do that too then?' It's correcting your pitch, and it's not that you're actually good at anything. It's just that there's this thing making you perfect. So yeah you suck. You don't even deserve that, because you can't sing. And you know, it's totally not true, because all these other people are doing it. They're not getting the Beatles records and shit. There's a lot of other people using it, and they're not getting any awards or any attention at all. It's not that easy. You can use Auto-Tune as much as you want to, but you still have to write a dope song. You still have to perform it well, you still have to deliver it, and you still have to have a dope beat—which I made pretty much all of them."
But now the truth is clear. T-Pain has managed to build a career because he's a talented musician, not because he exploits a gimmick, as many people have assumed. It's time we started taking T-Pain seriously.