Intense Photos Show What's Happening in Burkina Faso Right Now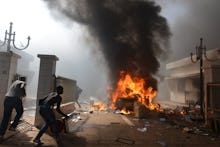 Burkina Faso is in the middle of a quiet revolution.
Hundreds of thousands are demonstrating against President Blaise Compaoré's plans to change the constitution to extend his 27-year rule. Lawmakers were due to vote on the proposal on Thursday, but before ministers arrived, about 1,500 people managed to break through the security cordon. The legislature has reportedly abandoned the vote, and Compaoré has declared a state of emergency in an effort to salvage his rule.
"We did this because Blaise was trying to stay too long. We are tired of him," Seydou Kabre, a protester in the crowd told NBC News as he headed to the prime minister's office. "We want a change. He must go!" 
The protests come on the heels of political upheavals across sub-Saharan Africa, some blatant efforts to extend term limits for the purpose of staying in power.
Police fired tear gas on protesters as a government helicopter flew overhead. Protests also erupted in other parts of the country, including mass demonstrations in Bobo-Dioulasso, Burkina's second largest city and Ouahigouya, to the north, Reuters reported.
The historic political upheaval is palpable inside the capital. Compaoré appealed for "calm and serenity" earlier Thursday as fires raged outside government buildings. Meanwhile, local radio and a diplomatic source told Reuters that opposition leaders held talks with the influential Gen. Kouame Lougue, the nation's former defense minister, about the possibility of forming a transitional government.
Various names for the protests are already emerging as the demonstrations garner international attention: revolution 2.0, Black Spring. The Twitter hashtag #lwili, named after the traditional Burkinabè Lwili Peendé cloth worn by protesters, is documenting the unfolding protests.
It is also inspiring comparisons to recent and ongoing upheavals.
"This seems to have moved us to a situation where Compaoré will have to leave power before the end of his term next year," Gilles Yabi, an independent West Africa analyst, told Reuters. "It will depend on how the security forces react, but I can't imagine that Blaise will be able to finish his term if there is serious violence today."
Reports of casualties range from three to 19 dead in the capital.