Secret Tape Shows What White Men in Government Talk About When They Think No One Can Hear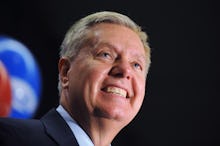 South Carolina Republican Sen. Lindsey Graham is facing some tough questions after he was caught on tape making some embarrassing jokes at a private event for members of an all-men's club in Charleston, S.C., earlier this month.
"I'm trying to help you with your tax status," he said in a recording obtained by CNN. "I'm sorry the government's so f***ked up. If I get to be president, white men in male-only clubs are going to do great in my presidency."
The comments were delivered in private and met with laughter by those in the room. That Graham was joking — even poking some fun at his audience — is entirely clear in the context of his remarks. 
But the laughter is knowing. A little too knowing. There is no pause. He's caused no discomfort among those in attendance. The crack immediately strikes a chord. And the laughter is more important than the joke.
Listen to the comments and reaction here:
Source: CNN
The great boxer and social justice warrior Muhammad Ali said it best: "My way of joking," he explained, "is to tell the truth. That's the funniest joke in the world."
The message is four decades old, but it remains an all-powerful reminder that comedy, the kind that really resonates with an audience, is at its core about telling the truth. A Graham administration would  be "great" for "white men in male-only clubs." The joke is funny because it tells the truth.
But we also have a responsibility to consider why our humor affects our audience in the way it does. 
Graham could take a cue from someone who understands. In 2005, comedian Dave Chappelle walked away from his blockbuster Comedy Central show (and with it, a months-old $50 million contract) because he was concerned his jokes were getting away from him.
The breaking point, he told TIME later, came in 2004, when he eyed "one spectator, a white man, laughing particularly loud and long" during a sketch meant to send up certain stereotypes about black people.
"His laughter struck Chappelle as wrong," according to the report, which drew from an interview with the comedian, "and he wondered if the new season of his show had gone from sending up stereotypes to merely reinforcing them." 
This is the question Graham should, but surely won't, be asking himself. Why did the gallery enjoy his joke so much? Why did he think to make it in the first place?
The answer is pretty obvious: It was funny. Because it was true.
h/t CNN