This Canadian Social Experiment Holds a Powerful Lesson About Islamophobia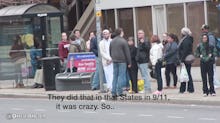 Did an alleged terror attack on Canada's Parliament cause a spike in Islamophobia? One actor went to find out — and ended up with a fist in his face. 
In an effort to test whether last week's shooting in Ottawa has made Canadians more uncomfortable around Muslims, a film director and two actors staged a social experiment at a local bus stop.
The video opens with director Omar al-Bach introducing two actors: Devin, playing an outspoken racist, and Zack, dressed in a traditional Islamic kaftan with a white cap. As the men waited at a bus stop, Devin launched tirade of verbal harassment and Islamophobic slurs at Zack. Al-Bach recorded the reactions of pedestrians. 
Despite the fact that last week's shooter may have been linked to Islamic radicalism, the video shows that average Canadians are forgoing a knee-jerk turn toward Islamophobia: Instead, they're prepared to defend one another from racism and abuse. 
"Are you planning on taking a bus? I suggest you take another ride," Devin tells one bystander, suggesting it would be dangerous to commute with Zack.
Another bystander interrupts: "You can't stereotype and judge people by their clothes. Or their nationalities or anything else."
"What happened there [in Ottawa] was an incident of fanatics. Everybody cannot be punished like that," he continued in his defense of Zack, even pretending to be his friend to help end the assault.
To which Devin replies: "What if he has explosives on him? Did you think of that?"
"That guy was a lone wolf," another bystander says, "he had mental health issues."
Yet another bystander simply answered Devin's question with a fist to the face.
Al-Bach closes the film with a tribute to the 24-year-old soldier, Cpl. Nathan Cirillo, who was killed by a gunman who opened fire in Ottawa's Parliament Hill last week. A funeral procession for Cirillo was held on Tuesday with 4,500 people led by his 5-year-old son, Marco.
Many surmised that the shooter was a criminal, not a terrorist. "I don't think we have enough evidence to use that word," Parliament member Tom Mulcair said on Thursday.
The video, which has garnered more than 1 million views since it was uploaded to YouTube Tuesday, doesn't just show members of the public standing up for a victim: It gives us a look at how Canadian society is handling last week's shooting.
It's also a lesson for countries like the U.S., where hate crimes against Muslims spike whenever there's a criminal or terrorist incident involving Muslims or even when something innocuous like debating the placement of a mosque in New York City happens. One horrific example after another shows that the U.S. has a long way to go.
Perhaps the U.S. can look to its neighbors to the north for some advice on how to stand tall and not succumb to fear and xenophobia in the wake of a horrific tragedy.
h/t Independent