Something Remarkable Happened This Fall When TV Got More Diverse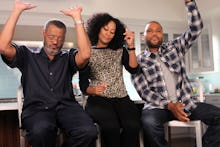 The news: In the lead-up to network TV's fall 2014 season, outlets buzzed with news of how racially diverse the new slate of shows would be. ABC led the charge, with a weeknight lineup featuring Black-ish, Cristela, Fresh Off the Boat and How to Get Away With Murder — all boasting minority leads and plotlines built around questions of identity.
"You're going to see shows reflecting the already-changed face of America," ABC Entertainment Group president Paul Lee told an audience of journalists and advertisers in May.
As it turns out, these programs did more than just bolster their networks' public relations. In a development that blew the minds of TV executives from New York to Hollywood, they also drew remarkably high ratings, prompting a generally homogenous television industry to rethink its attitude toward diversity in programming.
Background: Deadline reports that ABC scored both the top-rated drama (How to Get Away With Murder) and comedy (Black-ish) of the season using diversity as its calling card. Murder in particular has decisively outperformed its popular lead-in, Scandal, as well as NBC's The Blacklist, with an impressive 5.7 Live+7 rating among adults 18 to 49 — meaning more than 6.5 million U.S. households matching this demographic tune into the show each week.
Meanwhile, the CW has emerged with what Deadline calls the "best-reviewed" new series on TV, Jane the Virgin. All three of these shows feature people of color in the central role, and two of them — Murder and Jane — star women.
None of this should come as a surprise. UCLA's Ralph J. Bunche Center for African American Studies recently published a comprehensive study charting diversity across the film and TV industry.
One finding stands out in particular: Despite long-held conventional wisdom, the Bunche Center found that TV programs with heavy onscreen minority representation were consistently rated higher than those without it, and films with greater minority onscreen involvement (21% to 30%) posted nearly $100 million more in box office receipts in 2011.
The takeaway: The correlation here isn't definitive, but it's enough to suggest that the entertainment industry's archaic methods of attracting viewers — i.e., placing white casts at the center of everything it produces — merit immediate and decisive reconsideration.
If the success of network TV's fall 2014 lineup is any indication, there's no better time to do so than now.
h/t Colorlines